Despite two separate meetings, the government and the opposition yesterday struggled to reach consensus on proposed budget measures, including lower taxes, and APNU and the AFC warned that they would proceed with planned cuts in the administration's spending if there is no resolution.
A late night meeting at the Office of the President between President Donald Ramotar and members of APNU and the AFC yielded little on budget demands, save and except for a commitment on the part of the Government to set up the Public Procurement Commission (PPC).
A source close to the meeting told Stabroek News that it is hoped that there are further commitments by the Government today to address the many concerns of the Opposition prior to the commencement of the pivotal Parliament sitting at 2 pm which will see the last round of estimates of expenditure for budget 2012 considered.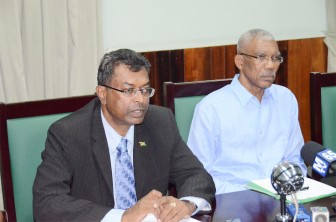 The AFC and APNU have been calling for the setting up of the PPC, a constitutional body, to properly police the awarding of contracts and the execution of works.
As a result of negotiations between the government and both APNU and the AFC –the first tripartite session since a flap last week over the exclusion of the latter –  the National Assembly yesterday shifted to today the consideration of the estimates for the Office of the President (OP), the Office of the Prime Minister, as well as the Ministry of Legal Affairs and the Ministry of Finance, which had been targeted for whole cuts or reductions by the opposition.
APNU and the AFC held a joint press conference yesterday afternoon in the Committee Room of the Public Buildings, following a meeting at the OP, where their representatives argued that their actions were only intended to bring down cost of living and improve the lives of citizens. They also made arguments for the reform of the state-owned National Communications Network (NCN) and Government Information Agency (GINA).
On the first meeting with the government, Leader of the Opposition David Granger said that the discussions were inconclusive and that government was not seriously considering changes. "APNU had advanced some points and the AFC had advanced some points. But it is quite clear to [both parties] that the government has not been examining, carefully, the points that we advanced and is not serious in making changes which we had asked for. And we are not going to be diverted by being put on  route to discussions for things to be brought up without a deadline or timeline," he said.
"There are specific things which we feel could be achieved in the present budget and we are pressing to make sure those things could be achieved. The discussion goes on and we expect that some agreement could be reached once the government understands we are serious about development in this country," he added.
According to Granger, the two opposition parties had roughly the same objectives and in some cases some overlaps in what they wanted cut from the budget. "We were concerned with proper financial management, particularly with bringing certain financial assets under the purview of the National Assembly, we were concerned with the quality of life of the ordinary people and that is why we made advances in terms of old age pensions and public assistance, we were concerned about education and that's why the University of Guyana is put on the agenda, we were concerned with jobs…there is a wide range of concerns. Strikingly both APNU and the AFC had similar objectives," he explained.
APNU's proposed cuts include an $18.394 billion provision for initiatives under the LCDS, a reduction by $674.5 million of a $918.7 million allocation for subsidies and contributions to local organisations, and the slashing of allocations meant for presidential advisors in the OP.
Further, APNU seeks to reduce an allocation of $6.7 billion for ICT to $6.5 billion, cut totally an allocation of $15 million to GINA and an allocation of $65 million to NCN. APNU is also proposing a total removal of the $6 billion subsidy to the GPL, under the Office of the Prime Minister.
The AFC has proposed to cut $500 million out of an allocation of $902.8 million for the Guyana Elections Commission (Gecom); $1 billion out of the $6 billion proposed for the GPL; and $75 million out of another allocation of $130.4 million under the OP for GINA. It also seeks to eliminate $81.2 million set aside for the NCN and reduce by $10 million the allocated amount of $37.9 million for contract employees at the OP.
Granger said that the parties were deliberate in their decision to earmark allocations to be cut. "This is not slash and burn. We have made recommendations. When we speak about GPL or GuySuCo, we have asked for information and we have made recommendations for reform and restructuring. We want to see a better Guyana. We are not out to destroy, we are out to create the basis for development to take place," he said.
"We have decided to take certain measures which will bring down the cost of living so people could play a more meaningful role in the economy, create employment and [it will] ensure a better quality of life for vulnerable people. Every step that we have taken so far has been on the principle so that those objectives could be realised. At the present time, we feel that those objectives could be jeopardised," Granger said.
"As the saying goes, serious diseases require serious remedies and we are now proposing serious remedies to ensure that the Guyanese public is not left with a budget which does not bring about significant change in their lives," he added.
Granger also emphasised that the opposition's mission "is not to cut, cut, cut" but to let the government understand that the country is in a crisis situation and they need to make concessions. "We are concerned about getting certain outcomes…we don't want to send anyone home. That is why I insisted that these institutions must be reformed – GINA, GuySuCo, NCN – must be reformed. We are looking at restructuring. We don't want to shut down these institutions. We want to ensure that there is proper financial management as in the case of [National Industrial and Commercial Investments Limited (NICIL)], and we want to ensure that government behaves in a way that is consistent with certain norms in the western hemisphere," Granger said.
Also addressing the gradual withdrawal of electricity subsidies for Linden, Granger said that he remains firm on his position with regard to the non-removal of the power subsidy and has communicated this to President Ramotar. "What we are insisting on is that for some economic measures to be implemented. They were not meant to be implemented simultaneously but sequentially. We want to see those measures implemented and start to work before we resume any discussions on the removal of the subsidy," he explained, while adding that government has indicated it will make a change.
Reforms
AFC Chairman Khemraj Ramjattan told reporters that reforms must come to NCN even if it means some jobs go in the process. "If when we do these cuts and we see the reform, there is something called supplementary appropriations. They can come with that and in that way we can restore the monies to them. But if they don't show any sign on moving forward on this journey of reform…we cut!" an animated Ramjattan said.
"Even if the workers want to be rolled in with this plea from the Minister that their jobs are going to go, then if some jobs have to go, fine! But we want to see the reforms and the balancing of the news. We must have our time there and if it is not going to come then fine," he added.
He later told reporters that the AFC felt that a reduction in VAT by two percentage points – from 16 % to 14% – all persons will benefit. "In our campaign we had been asking for a reduction of four percentage points…we have compromised and are now asking for two percentage points off VAT," said Ramjattan. "If we want to see VAT reduced and [a better deal] for the country-at-large, you have to make cuts somewhere," he further said.
Ramjattan also reiterated his party's intention to wring changes out of the government with regard to the budget. "We had already indicated from an early stage that we are not going to accept this budget without some amendment," he said, while arguing that the revenues in the budget do not represent all the money that can be allocated.
He said the party has projected that more can be done for the ordinary people, including cutting VAT, reducing the personal income tax rate and create a Public Procurement Commission that is operational this year, from sources not accounted for, like NICIL and static Bank of Guyana accounts.
"We are not going to know anything about the Marriott Hotel because it is not in the budget, yet government monies to the tune of about U$25 million are going to be poured into that project. We are saying that we would have to make the cuts to make the lives of Guyanese better.
We are not getting, at this stage, any consensus from the government… they would like their budget to be passed as is. They raised the [old age] pensions to $10,000 [and] we feel lots more can be done," Ramjattan said, adding that the talks will continue.
"We do not want a collision course… we would like to negotiate consensually. But if the things that are going to make life better for the people are not going to be agreed to by the government, we in the AFC will have to take a drastic course. We will have to make some cuts in a number of cases," he, however, warned.
Viable
At an APNU press conference earlier in the day at the Office of the Leader of the Opposition in Hadfield Street, Carl Greenidge, APNU's point man on economic matters said the opposition was aware that GuySuCo has been encountering a number of difficulties which the government had claimed it had fixed. However, he noted that those difficulties have not been fixed. He said GuySuCo would need to submit a plan to Parliament on how it is to be made viable. "They also need to change the board so that there is a more effective and non-politicised board to get around these difficulties," Greenidge said.
Similarly, he said the same issue arose with GPL. "We need to see a similar plan for the improvement and efficiency of that enterprise in order to lend support to the $6 billion that is supposed to be transferred to them," he said.
Greenidge later turned his attention to NICIL, saying that the transfer of resources and also the establishment of a board that is meaningful are imperatives. "NICIL, in the context of the debates, is very important. Government seeks to try to persuade us to identify sources of funding. It is the source of hidden funding, all sorts of odd transactions and it is meaningless to discuss the financial resources available to the government if you put a window somewhere in which you throw funds, state funds, whether they be associated with sale of state assets and lands or whether it is associated with the selling of GT&T shares which netted some US$30 million," he said.
Later at the joint news conference, Greenidge said in APNU's initial talks with government, they showed an interest in conceding in some areas. "For example, we had a proposal pertaining to the depressed areas, a fund for enhancing employment, training and the environment of depressed areas. The government seemed keen and happy with that but we have not gone very far beyond that general commitment in principle to do something about such areas," he said. "Today they have thrown something in the package that would relate to that," he said.
"We spoke on VAT and we have not come to a satisfactory resolution of the problem. We started off requesting a two percentage point reduction in VAT. That has not been satisfactorily resolved," he said. He called it unusual and unconventional economics to suggest – as GRA Head Khurshid Sattaur and Finance Minister Dr. Ashni Singh suggested – that a reduction in VAT will not benefit the poor. "It is a greater burden on the poor," Greenidge said. "The government is so concerned that reduction of the VAT would benefit the rich more than it would the poor so they wouldn't reduce it. It is what is called a regressive tax… it carries a greater burden in absolute terms and in percentage terms on the poor than it does on the rich," Greenidge said. He said that government should have been talking about the implementation of a negative income tax that would bring relief to the poor rather than to impose VAT on them.
With regard to the issues to do with taxes, Greenidge said that it might be useful for a tax commission to be established not only to look at the taxes in place but to examine other taxes. It will also be looking at how different groups in the community are affected by the taxes and gill make a comprehensive set of recommendations. "We do not accept at all that the Government cannot change tax rates for VAT because they do not know that will happen [with the tax review committee]. It is not true," Greenidge said.
He mentioned that as recently as 2008 USAID did a study at the request of the government on taxes. Further, he said that prior to the 2005 change in tax rates, there were recommendations from the International Monetary Fund (IMF) coming out of a tax study. "It is not normal that each time you change the tax rate you have a special committee," Greenidge said. "We have arrived at a situation where if you are an individual, you pay a higher tax rate than a company…it is most unusual," he said.
According to Greenidge, APNU had said to the government at the meetings that the budget needs to take on board the ideas and wishes of the other two parties. "We are not taking over the budget as such, it is that it must reflect [the feelings of the other parties]," he said.
Pointing to the recent attacks on his character and his record as the former Finance Minister under the PNC administration, Greenidge said that taxpayers should not fund state agencies that then turn around and attack persons, adding that the government needs to address and attend to the problems at the state media entities.
Further, Greenidge said that government has failed to address a set of recommendations made in relation to Gecom.
Around the Web