Following a gruelling session that saw Minister in the Ministry of Finance Juan Edghill facing a barrage of questions the opposition banded together and excised the budget allocations for state TV, NCN and GINA in a historic move in Parliament today.
The opposition voted for the two agencies to receive one dollar each, cutting their proposed budgetary allocations of $211M and change.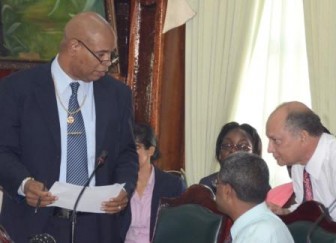 Arguing in support of the motion in his name, APNU MP Carl Greenidge said that the opposition is unhappy with the reporting of both NCN and GINA. He said that the agencies have a responsibility to serve the nation and all the people. He said the entities refuse to deliver "professional services and balanced news reporting." Based on their operation over the years Greenidge said that the entities do not "merit taxpayers' money to subsidize them." He said they should use the monies they gain from other avenues to run their operations.
The vote signified that further excisions will be made today by the joint opposition to slash around $18B in what they see as budgetary fat in the 2012 estimates of expenditure. It also underlined the rejuvenated unity between the two opposition parties after APNU had briefly flirted with the government on a deal to permit the passage of the budget without cuts.
In what would be the first instance in independent Guyana where an opposition defied a sitting government and slashed its expenditure, the opposition is taking aim today at so-called `fat cats' in several key offices and projects they believe are not transparent.
Former PPP stalwart and now AFC MP Moses Nagamootoo charged that GINA is a propaganda outfit that uses monies to pay letter writers. He said both are "propaganda outfits." Nagamootoo was mercilessly heckled by members of the government which obviously got to him as he said they were coming at him like a "pack of wolves" and described then as hyenas. He was forced to withdraw those descriptions when longstanding colleague, Home Affairs Minister Clement Rohee objected and Speaker Raphael Trotman asked him to withdraw.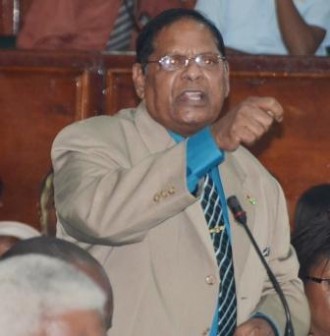 Prime Minister Sam Hinds expressed regret at the opposition's move and said all Guyanese wants to see cricket and other programming which may now have to be cut.
However AFC parliamentarian Cathy Hughes countering this statement said that in 1996 two other television stations -VCT 28 and WHRM – showed cricket with feed from CMC. This stopped after NCN went directly to CMC and made a higher bid to be the sole distributor of the sport. She said if the cut means that cricket will be pulled, the private sector will come together to ensure cricket is shown.
In a bid to sway the opposition Edghill described the issue as a "sensitive one" and argued that citizens have a right to information as is provided by NCN. Amidst loud heckling by the opposition of "too late" among others, Edghill stated that NCN is a "national asset". With the cut, he said shows such as GT&T's Feel the Beat dance show, the Sports Magazine and the Excellence Dazzel show would not receive any discount to be aired and they would have to start paying more to have their shows aired.
As he repeated that it is a national asset many called NCN a "propaganda machine." Edghill said that 38 persons from GINA will be out of a job due to the cuts. He said NCN is the "prime training" ground for the electronic media.
Vanessa Kissoon of APNU said that NCN has been stifling Region 10 for years.
Around the Web