Photos by Anjuli Persaud
Staffers of government agencies that face budget cuts proposed by APNU and AFC yesterday took to the streets to protest the move, while the state-run National Communications Network (NCN) warned that it would have to scale back its operations to save on costs.
Protesting along Brickdam on the eastern side of the Public Buildings were the administrative staff of NCN, the Government Information Agency (GINA), the One Laptop Per Family (OLPF) project and the Office of Climate Change. "No budget cuts," the workers chanted yesterday afternoon before engaging in a war of words with APNU and AFC supporters, who said the move was really intended to weed out corruption and save money.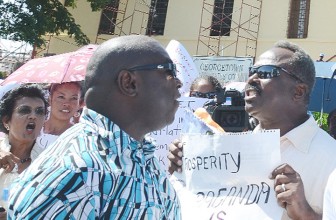 Police intervened on occasion as APNU and AFC supporters pushed their placards into the faces of the protesting workers and verbally abused them. The workers responded in kind.
According to NCN's Chief Executive Officer Mohammed Sattaur, if the subvention to NCN is not granted, it could mean a layoff of workers. NCN has 152 full-time employees and 70 contracted workers, including those who produce and host their own programmes. He added that NCN will also have to cut its twenty-four-hour broadcast to sixteen hours in order to save revenue to maintain its operations.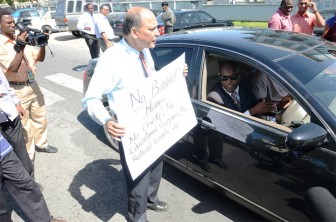 "The (Parliament) subvention provides for a subsidy of 30% of the salary cost and if it is cut it means those workers will have to be laid off, while we will have to stop the transmission on a twenty-four-hour basis and go to from 6am to 10pm every night so nobody will see the late movies etc," he said.
After learning of the opposition's proposals, Sattaur said NCN yesterday shut down all operations except its core—Channel 11 and Voice of Guyana Radio—for three hours to save on electricity costs. NCN also pays approximately $100M in electricity bills.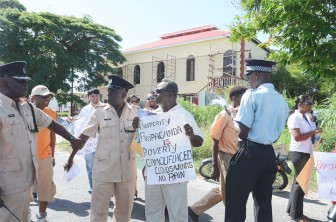 Sattaur added that NCN provides programming that is not commercially viable to the nation, like its live Mashramani coverage which involved having 28 staff members on the streets along with equipment. When the cost of the venture is totalled, Sattaur said it becomes "economically unfeasible" for the agency.
Alerts
Sattaur added that NCN is also responsible for putting out the national disaster alerts because of its reach. "So, if there's a national disaster after 10 pm nobody nah gon know and we gon sleep away and next morning all of we get flood out or drowned out… [While] it seems like we can go out there and make back this money by selling those ads, really that is not possible in this type of economic environment," he said.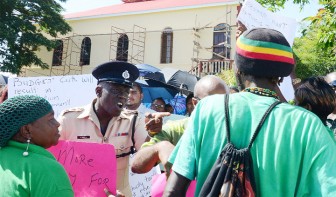 Although Sattaur admitted that advertising accounts for most of NCN's revenue, he pointed out that it is operating in an environment where there are nineteen television stations that are pirating feeds from satellites, which is costing it. He added that as a result, the other stations can sell ads for about $500 to $1000. "NCN is in a marketplace where we can charge about $1,000 to $2,000 per an ad so unless these dynamics change, for us to have a local identity we need to have some kind of subvention support," he emphasised.
Meanwhile, Head of GINA Neaz Subhan said that the proposed cuts were a deliberate attempt to muzzle GINA.
"It is a deliberate attempt to muzzle GINA because we provide relevant information as regards to government programmes and policies to keep the nation informed on various aspects on development across the country and not only people in Guyana but people overseas also depend a lot on getting information through GINA," he said.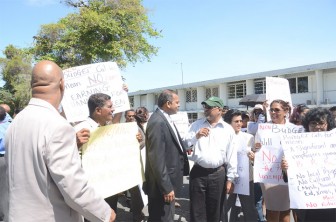 He added that they believe the proposal by the opposition is a direct attempt to stop the dissemination of information to the public, to prevent it from keeping abreast with developments.
When questioned about the monthly operational costs of GINA, Subhan explained that it has to print numerous booklets and pamphlets to inform the public on issues of the government. He added that the materials are also used by students, who often visit GINA to be informed on topics of national interest.
The opposition demonstrators said that they wanted the parties to represent their interests appropriately and weed out the "overgrown bushes" in high offices that are getting large sums.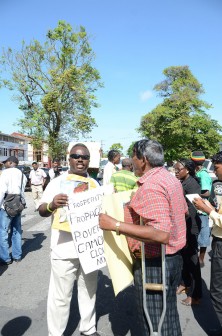 They called on Leader of the Opposition David Granger not to disappoint them and to look after their best interests, including ensuring better living conditions, eliminating corruption in the ministries and developing a strategy to bring them out of poverty.
APNU MP James Bond, on his way to Parliament, took time to interact with the protesting workers but they refused to acknowledge anything he was saying. They instead chanted the slogans "No budget cuts!" and "No subvention, No Cricket!" in his face.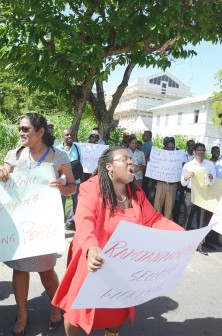 At one point, a senior police officer, who dubbed the opposition supporters "bullies," tried to remove them, leaving the government demonstrators intact. But the opposition supporters said that it was their democratic right to protest and continued their demonstration.
Around the Web