Photos by Anjuli Persaud
You knew something big was about to happen yesterday when APNU's Chief Whip Amna Ally, before the National Assembly reconvened, herded her MPs and told them that no "walking about" was going to be tolerated during the sitting.
The National Assembly was abuzz. MPs, especially those on the government side facing down sharp budget cuts, reluctantly ambled to their seats under the gaze of the eyes in the public gallery, filled long before the scheduled 2pm start to witness history in the making as the combined opposition used its majority to effect cuts for the first time in Guyana's parliamentary history.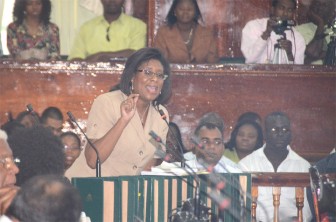 Chairman of the Committee of Supply, Speaker Raphael Trotman knew he would have his work cut out for him in trying to keep the MPs in line throughout the proceedings, especially as the cuts proposed by the opposition were met with shock and loud protests by those in the government benches.
He would soon be calling on his colleagues to restrain themselves while guiding them on decorum and cautioning them about the use of some suggestive language. (The term "fat cats" was not to be used to describe the high salaried contracted workers, Trotman warned, saying he understood that the term had a "negative connotation.")
Among Trotman's earliest challenges were the reactions to disclosures by Junior Minister of Finance Juan Edghill—seemingly sacrificed to the opposition interrogation by his senior Dr Ashni Singh—who tried to put up a brave face as he was peppered with questions.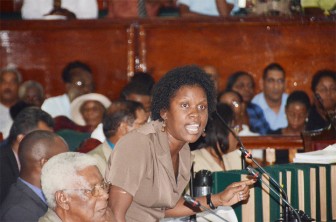 Edghill's disclosures included that there is a contract worker at Office of the President (OP) who earns as much as $3M per month. As he listed the salaries, one opposition member exclaimed "Jesus Christ," prompting Trotman's call for restraint.
Also, despite NCN's crying foul over the budget cuts—its government subvention reduced to a grand total of $2 yesterday—he revealed that the state-run radio and TV network actually raked in over $500M in revenues last year. Edghill's statement under questioning that government was unaware whether the two agencies' audited accounts would be laid separately in the House did not, however, go down well with the opposition.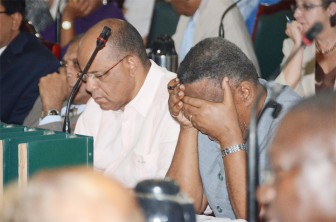 In arguing for NCN's subvention to be maintained, Edghill named the Excellence Dazzel show and GT&T's Feel the Beat reality dance competition among two of the programmes that would no longer be aired if cuts were effected.
Chief Executive Officer of NCN Mohammed Sattaur and Head of GINA Neaz Subhan were both on hand (there was also a reserved seat for Prem Misir who only occupied it for a short period) and assisted Edghill as he provided answers to the questions by members of the opposition. The two entities were described as "propaganda arms" of the government and some members of parliament shouted "not a red cent" as the vote was being taken.
Wolves and hyenas
Former PPP/C stalwart and now AFC MP Moses Nagamootoo faced the full brunt of the government's fury while firing questions about NCN and GINA.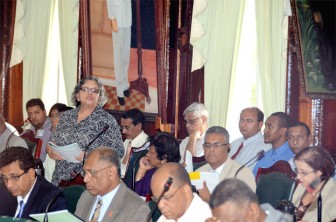 He said that they always come at him like a "pack of wolves" and later he dubbed them "hyenas"—a description that did not go down well with Home Affairs Minister Clement Rohee, who broke his silence to object. In the end, Nagamootoo was forced to withdraw the descriptions.
Rohee's objections were not without incident as he was greeted by APNU parliamentarian Joan Bavaghems, who imitated a goat as he spoke in reference to the minister's infamous "Goat nah bite me" declaration when he announced his bid to be his party's presidential candidate.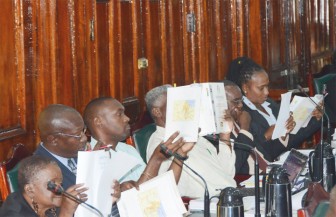 Tempers flared as Nagamootoo sought to speak before Attorney General Anil Nandlall, who was eventually permitted by Trotman to go first.
"We are in parliament and parliament requires decorum," said Nandlall, to which Nagamootoo angrily shouted "Shut up!"
"That is the behaviour you are displaying for the press?" questioned Nandlall, who was again urged by Nagamootoo to shut up.
"Take that out," Nandlall said in reply to members of the media.
APNU's Vanessa Kissoon joined Nagamootoo in exhorting the government members to "shut up!" after he spoke in favour of the cuts for NCN and GINA, prompting Speaker Trotman to caution members to desist as their actions were bordering on the "ridiculous."
APNU MP Jaipaul Sharma was not the most articulate speaker, but took on no less a person than the PPP/C's veteran MP Gail Teixeira who dismissed his questions about OP's spending as "ridiculous issues."
Edghill, in his first reply, sought to "get guidance and what really is the question." Asked to repeat, Sharma asked about the 11 local organisations listed in one of the line items under OP's estimated expenditure and how many of them were housed in OP and how many of them are receiving services from the office. Edghill said he had "extreme difficulty" understanding the question, much to the amusement of his colleagues but Sharma was undaunted, and further asked why a subvention must be given to the organisations when expenditures could be reflected under the appropriate line item in the budget.
An unusually subdued Teixeira stood to say that "we are getting into rather ridiculous issues." Trotman noted that Sharma was a new MP and "it is our duty to give him guidance… [and] I would not consider anyone's question as ridiculous…"
Sharma thanked him for his intervention but to the laughter of the entire House he said that he was not the one that needed guidance and referred to the findings in the recent Auditor General's report, which stated that Castellani House, one of the 11 organisations, should be incorporated in agency outlines. "…And the accounting officer did indicate that actions would be taken, so it is not I that needs to be guided," Sharma fired back.
He again crossed paths with Teixeira later down in the evening as he sought to find out who was the contracted worker at OP that is entitled to duty-free concession by virtue of being a parliamentarian but is also allocated a vehicle for personal use. "I would love to answer that," Teixeira said as she sprung to her feet but Trotman noted that there was no need to name the person.
Around the Web