With their government subvention reduced to a single dollar, the National Communications Network (NCN) and the Government Information Agency (GINA) staffers last evening staged a candlelight vigil.
The workers of both state-run NCN TV and Radio and the government's information service stood with candles in their hands at the eastern side of the Public Buildings, on Brickdam, saying they were "mourning" their jobs, which they said were "killed" by the combined opposition, APNU and the AFC.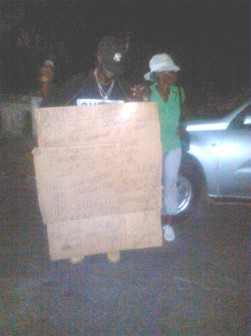 The opposition used its one-seat majority to cut allocations for GINA and NCN to $1 each on two separate occasions.
According to GINA Head Neaz Subhan, the action was unexpected and his staff was still trying to cope with the decision, which he said would put them out of jobs. He added that he met with President Donald Ramotar, who assured him that his staff's welfare will be looked after accordingly.
"We have assured the staffs that this will be dealt with and they will not be left on their own and I also spoke with his Excellency [President Ramotar] and he has asked me to assure them that their welfare will be looked after," he said.
Subhan added that his superiors will be advising him on the way forward, while noting that the Guyanese public needs to understand the implications of giving an agency with 40 staffs (and) a $1 budget. "It's unfortunate [and] I believe that some Members of Parliament do not understand the operations of GINA. Our mandate is to provide the nation with information of the government's policies and issues of national development," he explained, adding that every government in the world has a unit that is there to provide information for the nation to be aware of their policies and developments and GINA is no different.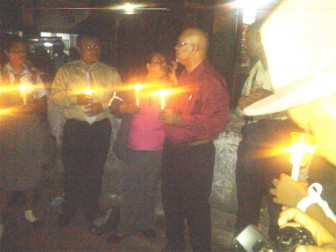 NCN News Editor-in-Chief Michael Gordon, meanwhile, said that NCN"s management team will have to get together and assess how the cuts will affect its operations and the way forward.
"NCN is more than capable of picking up the pieces and moving forward," he, however, assured.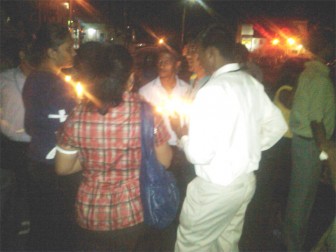 The staffers of both agencies said that they were worried about losing their jobs, saying that they have invested a lot into them for it to be just snatched away. They described the budget cuts as "heartless" and noted that as government employees they also pay taxes and it is their monies also that are being used, so they must have a say in the decision-making process as well.
Protecting the decision of the opposition were two demonstrators who stood by the cuts, saying that they were long overdue.
Around the Web