A woman and her five children lost their La Parfaite Harmonie Housing Scheme, West Bank Demerara home early yesterday morning after her husband, from whom she is separated, set it on fire.
Suarswatie Mootoo was  at her Lot 3921 Westminster, Phase 2, La Parfaite Harmonie home with children when the house was set alight and fire fighters arrived too late to save anything.
Fire Chief Marlon Gentle told Stabroek News that a fire tender, which was closest to the scene, was rendered immobile after when a car overtaking a minibus crashed into it on the Demerara Harbour Bridge.
The fire was started sometime around 6:30am, according to Mootoo. She told Stabroek News that her husband, Naresh Seepersaud, arrived home sometime after 6am and began to pound on her door. The couple are separated and Seepersaud lived at the top flat of the two-storey house, while Mootoo and her children occupied the bottom flat.
"…I tell he that how if you come, don't mek trouble and he went upstairs and come back down with a kero stove in he hand," Mootoo related, adding that upon seeing the kerosene stove, she became alert and then noticed smoke emanating from the upper flat. While she raised an alarm, Seepersaud began pouring kerosene on a sofa in her apartment, set it on fire and fled.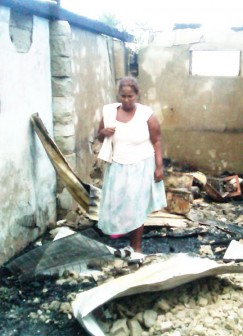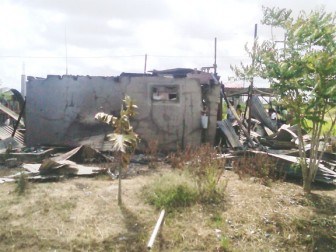 "When he go in my apartment I see smoke coming out from upstairs and he throw kero pon the chair in deh and light it so the place start ketch from upstairs and downstairs," Mootoo added.
They were unable to save anything from the house because as soon as the fire started, she gathered her children and stood on the road awaiting the assistance of the Guyana Fire Service.
However, the fire service took approximately an hour and a half to arrive at scene, by which time it was too late to save anything.
Mootoo operated a grocery and liquor shop, which was owned solely by her, at the bottom flat. She estimated her losses in the vicinity         of $5M. Mootoo and Seepersaud shared a seven year relationship and they have three children, ages 7, 6 and five.
But she said she endured a lot of mental and physical abuse at the hands of her partner.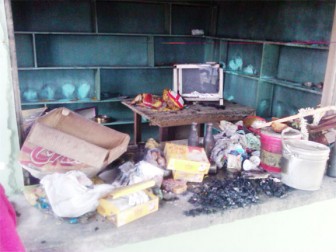 According to her, the man would normally verbally abuse her and then the physical assaults began. On numerous occasions, she recalled, he broke bottles on her head and assaulted her about the body.
Mootoo said that she would usually make reports to the police and the couple have a matter before the Wales Magistrate's Court, where Seepersaud was placed on a bond to keep the peace for a year.
When asked about her future, Mootoo said that "Me gon stay right here with my children… I gon let them boys cast up the wall and shed the bottom flat but before meh do dat, I got to get some money first."
Earlier this month, a fire in La Parfaite Harmonie claimed the lives of two children. It was said to be caused by a candle was lit and left in one of the rooms.
Around the Web