(Trinidad Newsday) Police yesterday launched a manhunt for a 25-year-old Guyanese construction worker who is being sought in connection with the murder of Nikita Ramischand, the 18-year-old daughter of prominent attorney, Odai Ramischand.
Nikita's throat was slit and she was stabbed several times in the abdomen, after being attacked near her mother's salon in Maracas on Wednesday night.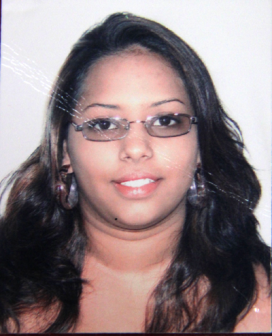 Investigators believe the suspect was obsessed with Nikita who rejected his marriage proposal a few weeks ago.
"This is definitely a murder which we will be able to solve since we know who killed Nikita and we know who we are searching for," Deputy Police Commissioner Mervyn Richardson told Newsday. He said investigators expect to detain the suspect, whose last known address was Felicity in Central Trinidad.
Nikita, a second-year ACCA student of the School of Business and Computer Sciences (SBCS), worked at Casa de Belize, a salon her mother Shariza operated next to the family home at LP 46 Maracas Royal Road, Maracas, St Joseph.
Nikita was supposed to attend to a client at the salon at about 7 pm on Wednesday. Police believe that while walking to the salon, Nikita was ambushed by the suspect who dragged her behind the premises where he slit her throat and stabbed her in her abdomen.
Shariza told police that she did not hear any screams or any strange noises, but when Nikita failed to arrive at the salon she became suspicious and began calling her cellphone. When the calls went unanswered, Shariza, her husband, Odai, their eldest son Sid and another brother and sisters began searching for Nikita.
They found Nikita's bloodied body behind the salon at about 8 pm.
Police believe the killer scaled a ten foot razor-edged wire fence, located on the northern side of the Ramischand family home, where he hid and waited for Nikita.
Homicide officers were called in as well as District Medical Officer Dr Richards who instructed that Nikita's body be taken to the Forensic Science Centre, St James for an autopsy which took place yesterday.
Before the autopsy, Shariza identified her daughter's body after which the distraught woman was led away by weeping relatives. The autopsy, performed by pathologist Dr Eastlyn McDonald-Burris, revealed that Nikita bled to death after her throat was slit. She also received six stab wounds to the abdomen.
Police believe the murder weapon was a kitchen knife which has not yet been found.
Sid, Nikita's eldest brother, yesterday said Nikita was considered "the baby" of the family and lived a sheltered life. He said three months ago, his father hired construction workers to work on the property where they lived and it was there that Nikita met the suspect. He said the two spoke frequently on the phone and when the suspect asked Nikita to get married a few weeks ago, she refused.
Sid said the suspect began making threatening phone calls to Nikita. Three weeks ago, the suspect scaled the razor-wire fence, entered the property and began threatening his sister.
It was only when Nikita said she would call the police that the suspect left. Sid added that his sister started a new relationship a few weeks ago and believes that this may have angered the suspect. He believes Nikita was being stalked.
He called on the police to find her killer.
"My sister was such a brilliant student who passed her exams with flying colours and we know she had a bright future ahead of her. But now that she has been snatched away from us, it seems like a bad nightmare but we are all trying to deal with this and we know that our love for each other will pull us through," Sid said.
He said he was keeping a level head to provide emotional support for his family.
"We will never get over this. There are five of us now but there will always be six since Nikita will always be a part of our family forever," he said.Yesterday, friends of the dead student set up an open group page on the social networking site, Facebook in which they expressed their sorrow.
By 2 pm, the Facebook page had more than 100 messages from concerned friends, relatives and acquaintances.
Some of them read as follows:
"I keep seeing her smile, hearing the sound of her laughter" ;
"All those silly times with you. I can't believe this. Gone too soon! You'll always be remembered";
"Nikita…you were an amazing person while I knew you…may your soul RIP And may God give your family the strength to overcome this";
"I still don't know what to say……We were not close friends but this is hurting like if we were"; "I really can't believe this has happened ….RIP nikita …u were a great buddy to sit next to 4 part of form 3";
"A sister to all of us…..a friend to many..a kind heart and a subtle smile we will all miss so dearly," were some of the messages.
Police officers returned to the murder scene yesterday and searched for clues. Nikita's father, Odai, remained indoors. Members of the legal fraternity expressed their condolences to Odai and his family and senior police officers pledged to do everything to bring the killer to justice.
Odai, who was born in Guyana, has been practicing law in Trinidad for decades.
Around the Web