An eight-year-old St Margaret's Primary School boy is feared drowned after he disappeared yesterday when he and a group of friends went swimming in the Atlantic Ocean aback of the Guyana Forestry Commission.
Missing is Devon Gibson of Lot 9 – 10 Queen Street, South Cummingsburg.
A man who accompanied Gibson and several other children ranging from age eight to twelve to the location is being questioned by police, after he left the scene without rendering assistance to the children. He was given a beating by residents before being handed over to ranks.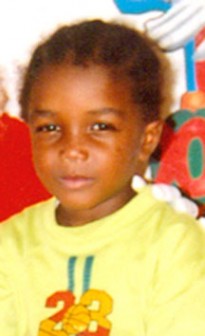 When Stabroek News visited the area where the children live, residents were still speaking of the incident.
Isolita Agard who raised Gibson from infancy was distraught and called for all to be on the lookout for her grandson.
She recalled that earlier in the day just before four she called out to the child and he answered.
About half an hour later, she said, she saw some confusion at a house not too far away and when she inquired was told that a woman's son had drowned.
She said she went to the scene only to be told that it was her grandson who was missing.
The elderly woman said this came as a shock to her because she never knew Devon to go to that area to swim.
She said that based on what she was told a man went to visit someone in the area and some children went with him to the sea wall. Gibson and other children went with the group although they were told to return home.
While swimming she said the boys encountered difficulties, and while a passerby saved two of them, Gibson was not so lucky.
Agard said that the child was very good and he often helped her to sell at her stand located across the road from where he lives.
Gibson also leaves to mourn his parents and three sisters.
Several weeks ago another young boy drowned at the same location under similar circumstances.
Around the Web