This is the Sixteenth in our series on new parliamentarians
After twenty-three years in the Guyana Defence Force and another 15 years as a lawyer in private practice, Joseph Harmon is now an "active politician" and a new face in the 10th sitting of the National Assembly, a sitting he hopes would be the turning point in the country's history.
Equity in housing distribution, proper infrastructure such as roads and bridges, and a national conversation on the country's development, bringing together all of the country's engineers, is what Harmon hopes that this present sitting would achieve.
Harmon also wants people to be recognized for their work and their competence and not just because they are connected with people who are in authority.
"These things we have to stamp out, and I am prepared to lend whatever energies I have to those things. I would like to see this Tenth Parliament become a turning point in the history of this country," he said.
Sitting down with the Sunday Stabroek, Harmon described Parliament as the "people's forum" since the people were the ones who voted for the politicians who occupy the chairs, and they want these individuals to work in their best interest.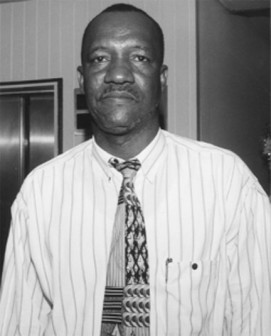 It has only been a few weeks since Harmon has been occupying one of the 26 seats won by APNU, but he said he is continually driven by what he described as an "enduring image" of a mother on her knees holding up her baby in front of the vehicle transporting himself and Opposition Leader David Granger to meet with President Donald Ramotar in Parliament shortly after the elections.
"She stopped the vehicle, she got down on her knees and she held up the baby and she said, 'Mr Granger even if y'all ain't do nothing for me do something for this baby,'" Harmon recalled.
He said every time he sits in Parliament and hears people "pontificating" he remembers the lady on her knees and he also remembers the many workers who said they were dismissed from their work because they wore green – the APNU colour – during the run-up to elections.
In Parliament Harmon's remit is the area of public infrastructure, housing and water and he said these are the issues that affect the lives of citizens on a daily basis.
"What I would like to see at the level of Parliament is to ensure that there are policies that guarantee equity in the distribution and access to proper housing…" Harmon said, adding that he does not believe that a house lot is a house.
He said to just give a poor man a house lot and nothing more is to "condemn him to a continued life of poverty." Harmon said in the National Assembly several proposals and recommendations have been made by other shadow ministers in the past concerning a holistic development in the area of housing and water and the development of communities, that would see the provision of roads, light, water, schools and green space, among others. "I would wish that my tenure in the National Assembly in the Tenth Parliament is marked by some direct input [in the development of communities]."
Further, Harmon wants to see a serious resettlement programme for the large number of squatters, and wherever possible the regularization of squatting areas.
"In my view there is too much unplanned development and I believe if people are given the proper facilities that they will move in that way."
In terms of public infrastructure, Harmon stressed that infrastructure is what really develops a country – the roads, the bridges – and as such he wants to see a national plan for roads and bridges.
During his budget presentation Harmon called for a national conversation on this issue and for all engineers in Guyana to be utilisied, and for them to sit and down and talk about how the billions of dollars should be spent on public infrastructure. With proper roads and bridges linking the communities, Harmon said it will open up development for Guyana, and instead of most of the population remaining on the coast persons would be encouraged to move to other areas in the country.
"I believe that if we understand that and we provide these facilities people would move, people would move. They would not stay to be flooded out every time the high tide raise," Harmon said, asking who would want to live in fear when they have the possibility of living better.
Addressing the country's infrastructure seriously would result in a better life for Guyanese, Harmon said. He is also concerned about the country's poor search and rescue capability, and even though persons are lost at sea or attacked on the country's waters very often, Harmon said there is still no institutional capability of handling search and rescue; instead it is done on an ad hoc basis.
"These are not partisan issues, they are issues that affect Guyanese, and these are some of things I would wish to accomplish in the National Assembly. I believe that the National Assembly must work for the people," he said.
Joseph Harmon revealed that he was born and raised in the West Demerara village of Pouderoyen and completed his schooling on the West Demerara before qualifying to do his 'A' Levels at Queen's College. However, because of his circumstances he was unable to take up the opportunity and instead was forced to find employment. He worked for about a year in the Geddes Grant motor sales department before enlisting for the Officer Cadet course, and he rose from the rank of Second Lieutenant following his graduation to Lieutenant Colonel at the time of his retirement.
He applied for early retirement from the army as he wanted to do something else. During his years in the army Harmon took advantage of all the training it provided which took him to many countries, and in his later years he also made use of the opportunity afforded officers to further their studies while still serving. He completed his law degree at Cave Hill in Barbados before attending the Hugh Wooding Law School in Trinidad. On completion of his law studies he served for some time in the army's legal services department, where he was the Commanding Officer and where he did some prosecution work.
"After that I felt that my skills could be used somewhere else, so I left, I retired," Harmon said,  adding that he has always held himself out to the army as being prepared to assist in whatever way he could. "I continue to give them assistance, advice in whatever particular field it might be necessary," Harmon said.
The 15 years he spent in private practice have been a rewarding experience, since he has been able to meet different people almost every day of his life and deal with different issues.
"Every day you do something that impacts on the life of somebody, and so my entry into active politics was not something I think was a big jump from one to another. In my view it was a transition from service in the army, from practice in the army and dealing with the daily issues that affect people, into active politics," Harmon said.
He went on to say that he used the term "active politics" because he believes that every day people do things that are political in nature even though they are not politicians.
According to Harmon, after some contemplation he recognized where the country was and felt that the skills he had acquired in his years of training and in private practice would have been better utilised in the interest of the people on a national basis. However, while the decision to take this course was a personal one, in large measures his entry into politics "was influenced by the fact that David Granger decided that he was going to run for the office of president."
Following some lengthy discussions with Granger after he was approached to work with his campaign, Harmon said he thought about it long and hard and joined because he felt the former army head was the right person to run the country. "That was a major factor in the things I considered  that caused me to make the decision to enter politics," Harmon said, and while Granger was not voted in as president he still feels that he is the man when "you look at what is there on the landscape."
"I still feel that he is the best person and I continue to work with him, I made the decision in March of 2011 and I have been working with him since then up to now, and I will continue to work with him because I believe his level of integrity, his compassion, his love for people are qualities which are hard to match," he said.
In his early days Harmon said he was a member of the Young Socialist Movement (YSM) – the youth arm of the PNC – and at one time he was the Chairman of the Pouderoyen YSM group,  later becoming a member of the regional executive of the movement. However, when he joined the army Harmon said he ceased his involvement in politics. He renewed his membership in 2010 but even in the intervening years he said he kept in touch with what was happening with the party and on several occasions he was the Returning Officer for the elections at the party's biennial congresses.
Harmon is married with six children and the noticeable scar on his face was a result of a car accident he had many years ago.
Around the Web