A mother is thanking her lucky stars that she called her daughter inside from playing on their front stairs, where a few seconds later a car crashed through their fence and into the same stairway damaging it.
Mother of the child, Amanda Wren  yesterday told Stabroek News, from their Lot 47 Public Road, Agricola home , that she was at home with her two other children ,watching television, as the six-year-old, Sonia Reid,  flew her kite on the platform of the front stairway. She said she called the child inside and a few seconds after felt a thud and the house shook.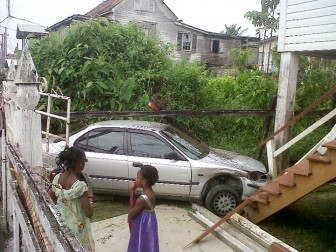 She and children in tow rushed to the front window to ascertain the cause of the noise and shaking house only to see their stairway and fence damaged and the car, a Silver Honda PNN 8738, stuck at the bottom of the steps.
She said they then scampered downstairs as a female driver exited the car and her yard followed by a male passenger. Neither of the two said anything to her but then proceeded to stand at the curb of the road as they stared at the damage.
Eyewitnesses told this newspaper that the car was travelling north and  had stopped two houses before the Wrens', at a vulcanizing and tyre shop, for air, when afterwards it  pulled off speeding, collided with taxi, HB 3390, before slamming into the Lot 47 Agricola property. No one suffered any visible injuries.
The female occupant of the vehicle gave a somewhat similar version except that she said that she was not the driver, her boyfriend was.
The taxi driver who only gave his name as Trevor, said that he was travelling north  in the outside lane, on his way to get his sister from church at Eccles, when he was hit by the car, sending him slamming into the concrete median which divides the four-lane roadway.
It was when he exited his vehicle that he noticed the car that hit him nestled in the yard of the Wrens.
Police arrived on the scene shortly after and took the driver of the taxi and the two occupants of the Honda to the Ruimveldt police station for questioning and statements.
Amanda Wren was also told to go to the station to give a statement but she said she is more concerned about who will fix the damage caused to her property.  She said "They are telling me to come down to give a statement but not a soul said anything about fixing here.
I need to know what is going to happen because this is Guyana and all everyone gives is a lot of promises, so I am going to ask." (Marcelle Thomas)
Around the Web