Relatives of eight-year-old Devon 'Luke' Gibson of Lot 9 – 10 Queen Street, South Cummings-burg who disappeared into the rough waters of the Atlantic Ocean on Saturday last are claiming that he was "murdered"; the boy is still listed as missing and feared drowned.
According to his aunt, Affiya Agard, when they visited the jetty aback of the Guyana Forestry Commission, Kings-ton on Saturday, the pathway leading to the Atlantic Ocean was clear but when they revisited yesterday they saw strange symbols which they think indicate the struggle of the six boys.
Agard told Stabroek News that they believe the man performed a ritual "to get the boys under his control" and then was about to sacrifice three of them but only succeeded in sacrificing her nephew. The woman said the St Margaret's Primary student was "sacrificially murdered" and they need justice.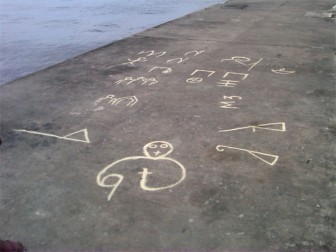 She noted that the police released the man on Saturday without a proper investigation being conducted.
However, survivors, 11-year-old Tyreke Inniss, 11-year-old Dexter Lewis and 10-year-old Denzil Lewis, said the man did not take them to the seawalls rather they took him there and that he did everything possible to save them.
Dexter said he tried to save Gibson but the current was too strong and it just pulled him under the jetty and he was not seen again.
Lewis said, "We were playing ketcha in the water, and we were swimming then the water start to push we in the jetty and [the man] grabble Luke first and then Sherwin and one of them kick he in he back and then [the man] put Luke and Sherwin on a rock."
He said the man went underwater for some time and when he rose up he began panicking and left for help.
Inniss said, "I see we moving in the water and by the time we could a do anything the water start lashing we in the jetty."
The trio said they were rescued by an "Indian Rastaman" after Clive went to get help for them.
Meanwhile, Gibson's relatives said something is not right with the story the boys are giving now, because they initially told a different version.
Around the Web