Minister of Finance Dr Ashni Singh yesterday cast doubt on whether government can muster support from APNU and AFC for supplementary budget funds, while saying that some jobs will go as a result of their reduction of public spending for this year.
Speaking at a press conference in the boardroom of the Ministry of Finance yesterday, Singh said the opposition parties cannot be trusted to approve supplementary papers, as their conduct does not inspire any measure of confidence.
The opposition, using its one-seat majority in the National Assembly, last week made reductions amounting to $20.8 billion of the $192.5 billion originally proposed. APNU and AFC, which cited concerns about a lack of accountability for some allocations in justifying the cuts, have urged government to collaborate with them to introduce an agreed supplementary budget.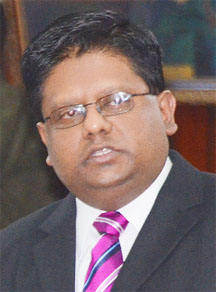 "We only have to look at their behaviour in relation to Financial Papers 7 and 8 and to see the public pronouncement that they made about supplementary provisions to discover the absence in sincerity in what they are saying now," Singh said.
"To say that we must come
back with a supplementary is an absurdity."
Singh also said that the message sent by the opposition with the cuts is that the affected agencies should be closed down, particularly since some have had virtually all of their funding slashed, which will cost jobs.
"If you were to look at the cuts that were made, in some cases to zero, if you operate from the premise that those agencies can no longer function, well, you would be on safe grounds saying those people no longer have their jobs," he added, saying that government is considering the situations from all aspects, including industrial relations.
"Those agencies have no funds appropriated to them any longer. They have no money to pay their staff, they have no money to meet their operational expenses… you tell me. What are their young staff to do? Continue to come to work hoping that the supplementary will be approved at some point in time? Go to the market and tell the stallholder 'I am going to buy my groceries today but I understand that Mr Granger and Mr Greenidge and Mr Nagamootoo and Mr Ramjattan might approve a supplementary for me?'" he said.
He added that the government is now considering its next step, including how to deal with some agencies. "There are some instances where budgets were cut to a certain amount… you need to consider how those entities will operate with the loss of their funding source and look at whether the reduced allocation can meet the cost of their operations," he explained.
According to Singh, on the last day of the examination of the estimates, when the final cuts were made, there was no sense of dissatisfaction by the opposition members with the answers that he and others on the government side gave to questions about some of the allocations identified to be reduced or in some cases cut completely.
"I will readily say that substantial parts of the national budget were passed without any adjustments and those programmes can proceed unimpeded. That is something that I am quite comfortable welcoming. But you also have almost $21 billion worth of cuts imposed by this APNU and AFC conspiracy in areas which could not possibly be justified…," he charged.
He accused the opposition of trying to put up smokescreens to cover their actions, but said that none of their explanations can withstand the test of scrutiny.
"What you were treated to was a naked and vulgar display of political power being wielded by an opposition that is clearly not interested in national development," he said.
"The people of Guyana are understandably outraged and rightly so…these are programmes all of which benefit the people of Guyana in one way or another. It is the height of parliamentary irresponsibility. What we have is the vulgar abuse of the majority of one."
In arguing against the opposition's cut of $18 billion for programmes under the Low Carbon Development Strategy (LCDS)—dependent on funding that the government is yet to receive from Norway—Singh argued that the funds are no different from funds expected from a variety of sources and for which expenditure is earmarked in the budget. He also said that it was the late PNCR Member of Parliament Winston Murray who insisted that the Norway funds be placed in the budget. He noted that in making the cuts, the opposition never even asked to know what the projects that had been approved were.
Singh also said that the opposition's moves to control the Speakership and the Committee of Selection were a sign of its intentions during the consideration of the budget, but he added that government remains open to dialogue.
Around the Web