Relatives of murdered Mahaica truck driver Jadesh Dass, who was shot and killed over a week ago, say that police are getting nowhere in the investigation.
Dass, 32, of Chelsea Park, Mahaica, East Coast Demerara, was found with what appeared to be a huge gash to the head. His body was discovered a short distance away from his truck at New Road, Mosquito Hall, East Coast Demerara on April 17 around 2am.
Stabroek News on Monday spoke with the dead man's sister-in-law, Neeta Dass, who explained that after about five visits to the Mahaica Police Station and numerous phone calls, the police have said that they have gotten no lead thus far.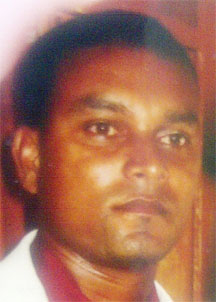 The woman said her family finds this very disappointing since they and many other residents within the community share the same suspicions about the identity of the killers but cannot take any action.
"The police keep saying that they ain't get nothing. Every time we go to the station, they saying that the detective that dealing with the matter isn't there and it's the same thing when we call," she said.
When asked about her feelings toward the halt in the probe, she said, "we feel bad but there's nothing we can do. We can't afford to take a lawyer and there's not even any eyewitness so we just have to leave it in God's hands… maybe we'll get justice in due time," the woman said.
She added that although her brother-in-law had no problems with the suspected men, "some people just don't like when they see you get up in life."
A post-mortem examination revealed that Dass suffered two gunshot wounds at close range to the right side of his temple and his forehead.
Prior to the medical examination, it was speculated that he might have been hit to the head with a heavy object by his attackers. Robbery was ruled out as a motive for his murder since his money and other belongings were found intact.
Around the Web