Patrick Thomas has been elected Toshao of Tobago Hill, in the North West District of Region One, following recent village council elections.
Former Toshao of the hilltop community Edmund Santiago told Stabroek News on Monday that he has relinquished all responsibilities for the post. He said that Thomas is now responsible for overlooking aspects of the community's development, including its controversial hassar rearing project that attracted public attention recently over reports of its success.
A resident of Tobago Hill told Stabroek News on Monday that Santiago was favoured for re-election earlier this year but the authorities had "come down hard" on him for speaking with the press on issues within the village. The Amerindian Affairs Ministry had accused him of giving misleading information about the hassar project.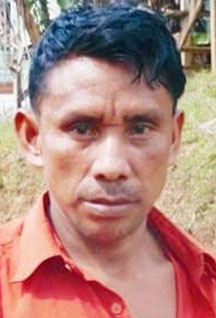 According to the resident, Santiago was severely criticised for providing information to this newspaper on the hassar project and he noted that the region's Community Development Officer (CDO) has been visiting the village frequently to assess the progress of projects.
The resident also reported that the four fish ponds related to the project are being cleared and prepared for expected developmental works. Residents are also working on other small projects, such as an agricultural drive as well as a poultry project, the resident said.
Meanwhile, efforts to reach Thomas on Monday were unsuccessful.
The Amerindian Affairs Minister Pauline Sukhai had reported the project to be a success earlier this year, but residents, including Santiago, disputed her assessment. A subsequent visit by this newspaper to the community also substantiated the project's lack of progress.
The agency had been mum on the issue and later, a release was issued by the ministry in which it noted that there were indeed fish in the ponds. A photograph of Santiago holding a hassar was also dispatched.
The project falls under the government's National Secure Liveli-hoods Programme (NSLP), which is being implemented at 15 communities in Region One.
Around the Web