A man was yesterday sent to prison after he pleaded guilty to three charges put to him by Magistrate Hazel Octive-Hamilton accusing him of unlawful assault, threatening language and disorderly behaviour after  clashes with his son, his daughter-in-law and the police.
Orson Cummerbatch fumbled initially at the Georgetown Magistrate's court before deciding to plead guilty to three charges read to him.
The charges stated that on April 28 at 119 Meadow Brook Gardens he unlawfully assaulted Marlene Burnette so as to cause her actual bodily harm.
He also made use of threatening language to Anthony Kissoon whereby a breach of the peace may be occasioned at the said time and place.
Further upon his apprehension by the police on April 29 he behaved disorderly at the East La Penitence Police Station, a public place within public view.
According to the particulars of the charge as read by Corporal Simone Payne the defendant is the father of Kissoon and father-in-law of Burnette.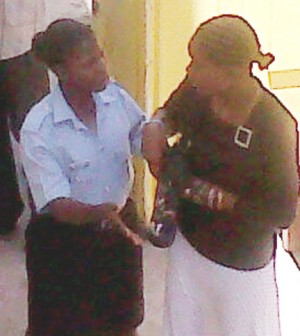 They all reside at the address stated in the charge and on the day in question at about 6:30 am the defendant approached Kissoon and accused him of not allowing the mother of his child to do any housework. Kissoon did not respond to him and this annoyed him and so he dealt his son several lashes with a piece of pipe about his body. He also took a cutlass and broadsided his daughter-in-law who is pregnant.
Cummerbatch was stopped by Curtis, a friend of Kissoon. Curtis advised the two complainants to report the matter to the police and they did.
They were given medical forms to seek attention at the public hospital and subsequently returned with the medical certificates and the defendant was arrested and later charged.
At the police station Woman Inspector Denise Small who was at the time in charge of the East La Penitence Police Station was in the inquiries office holding a confrontation between Kissoon and the defendant. The defendant started behaving disorderly and he was spoken to by the inspector. However, he used insulting words towards her and was spoken to again but he continued behaving in a disorderly manner causing other persons to gather. He was later charged with disorderly behaviour.
When given a chance to speak Cummerbatch apologized and asked for forgiveness: "I sorry for what I'd done, I will never let it happen anymore. I don't know if you would consider I do carpentry work and if you could help. Forgive me."
He also said that his son had punched him first but the police did not take a statement from him. He said that he did not hit his daughter-in-law Burnette since he had no reason to.
Cummerbatch then called on his  girlfriend Yolanda Harry who he presumably did not know was wanted by the court on a charge. Upon hearing the name the magistrate summoned her into the court and asked  her about the case and she was subsequently sentenced to six weeks imprisonment.
Cummerbatch also receiv-ed a six-week sentence on both assault charges  to be served concurrently and a $15,000 fine on the disorderly behaviour charge with an alternative of two weeks imprisonment, also to be served concurrently.
Around the Web