Amid speculation that snap elections might be on the horizon, PPP/C leaders last evening told supporters of Shieldstown, West Bank Berbice that the parliamentary arrangement is becoming untenable and urged them to use their votes to ensure it does not find itself again in its current situation.
"Comrades, if and when, whenever the president of this country, his Excellency Donald Ramotar decides that enough is enough, you and I and all of us have to be ready to do what we did not do on November 28, 2011," former Human Services Minister, Bibi Shadick told a gathering, in reference to the last general elections, where the PPP/C was returned to government but without a parliamentary majority. APNU and AFC have a one-seat majority in the National Assembly, which they used last week to effect a $21B reduction of the national budget over concerns about the spending.
The PPP/C is holding public meetings across the country to discuss the budget cuts and they come amid speculation that it is preparing to call new elections.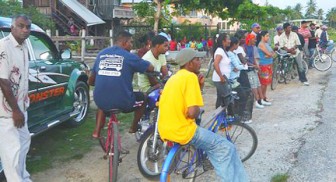 "What we have gone through in the parliament for the past three weeks, I don't think they can repeat that next year," she said, adding, "We are moving to a place where we would become untenable to remain as we are."
Shadick said that persons who are registered have a duty to go out and vote and ensure that the party is not left in the position it is currently in. "…The Nagamootoos and the Ramjattans cannot take a hatchet and decide that they are going to cut $21B out of a budget out of $192B. That money was to be spent for the Guyanese people," she said, referring to former PPP/C stalwart and now AFC MP Moses Nagamootoo and AFC Chairman Khemraj Ramjattan.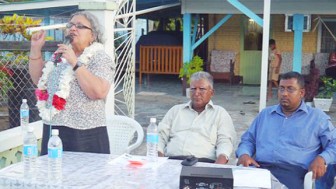 She noted that one argument that Ramjattan has is that government is putting $18B of the Low Carbon Development Strategy (LCDS) money in the budget even though it does not have it as yet. She, however, explained that a "budget talks about how much money you would collect and how much you would spend… not about how much money you have in the bank."
Shadick emphasised that "nobody can deny that this country has been transformed but we can improve on what we have and it can get better," adding that for the past six years, the country had positive economic growth and very little inflation.
"Every single year there has been increases in wages and salary for public servants across the board while the joint service gets one month's salary at the end of the year as bonus," she said, while adding that for the years that PPP/C has been in government, it has never increased the prices for items like kerosene and bread like the PNC government.
She also lamented that a lot of people would lose their jobs because of the budget cuts, although the opposition is claiming that it was never its intention to send anyone home.
"They sit in parliament and cut a budget that is meant to help our people in this country," she declared, saying they could not have done a greater disservice to them. She also accused members of APNU of sitting with the president and "agreed to something and then returned the next day" and changed their minds.
Shadick emphasised too that government would never allow the sugar industry to fail even though members of the AFC are going around and telling the workers otherwise.
Meanwhile, Regional Chairman Bindraban Bisnauth spoke about the
$4B subsidy in the budget for the sugar industry, while adding that the opposition wanted that money to be channelled into the electricity in Linden although the AFC had claimed that it cared about the sugar workers and had promised them a 20% increase in salary.
He admitted that the sugar industry is encountering some difficulties but said it can have a turnaround.
Bisnauth also said the opposition wants to "shut down GINA [Government Information Agency]" but questioned how the 38 workers who have responsibilities would be able to "provide a livelihood for the ones that were depending on them." He added that the opposition is claiming that "GINA should not exist because it is only promoting what the government is doing."
However, he said, when Prime Minister Samuel Hinds invited them to sit and talk if they wanted further negotiations or information, they were saying "no money for you; send the people home."
PPP/C MP Neil Kumar, who also addressed the gathering.
Around the Web