The Ministry of Tourism, Industry and Commerce said yesterday that following a meeting with representatives of the United Minibus Union (UMU) the fares for short drops in the city would remain at $60, but UMU President Eon Andrews denied that an agreement had been reached.
The meeting was held yesterday between the two parties to discuss the increase in public transportation fares by minibus operators.
However Andrews said that no agreement was made and  the minister was trying to say, "My way or no way."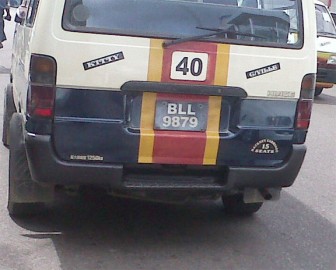 "We had expected them to say that let's decide on a time frame so that we can test the deduction and then make a joint statement but this was not done, they just put forward their demands and we cannot agree to that," Andrews told Stabroek News last night.
In a press release the ministry said that the meeting sought to bring clarity on regulating the public transportation sector and after negotiations with UMU, government proposed that they would take the necessary steps to ensure gas prices stay below $1,000 per gallon so there would be no increase in fares.
The release added that the union would immediately revert to the original fare structure as agreed on January 2011, and the ministry is advising commuters not to pay any increase in fares on any route across Guyana as these increases cannot be justified by the union.
Public Utilities Commission
It was further stated that United Minibus Union and the Ministry of Tourism, Industry and Commerce would commence talks on integrating the service under the Public Utilities Commission (PUC), so that the public transportation sector would be managed and regulated in future.
However, the representatives of the union said that they are not prepared to come under the PUC, maintaining  that the government does not own their buses and therefore has no authority to dictate what they do.
Stabroek News checked on the operations of a minibus in the city. Two reporters boarded Route 40 minibus, BLL 9879, and upon disembarking at the corner of Regent and Camp streets they paid the conductor $120 after which they were subjected to a series of indecencies from the conductor.
He told the reporters "Like y'all can't read and no minister don't own no bus on this park," while referring to his fare structure displayed in the corner of the minibus.
Andrews responded to the situation by saying that they have acknowledged the fact that there are 'rogue' conductors and drivers but they have plans to change that.
He said that they have agreed with the Guyana Road Safety Council to conduct three training sessions which all conductors and prospective conductors must attend and attain a pass at to have them recommended to be  granted licences to operate.
The release said that both parties would work towards defining clear "Terms of Reference" as to the role, responsibilities, guidelines and procedures of each party to the agreements made.
Around the Web