"If you don't have a permit, don't go to the mining community," Minister of Natural Resources and the Environment Robert Persaud  yesterday warned as he announced plans to intensify 'Operation El Dorado,' which targets illegal miners.
Persaud stressed that the operation, being jointly undertaken by his ministry, the Guyana Geology and Mines Commission (GGMC) and the police force, was not intended to target any one nationality, but to curb illegal mining and to enforce mining regulations throughout Guyana.
Speaking at a press conference, in the boardroom of his office at Shiv Chanderpaul Drive, in Georgetown, Persaud stated that no exact dates of the continuation of the operation will be given to avoid forewarning offenders.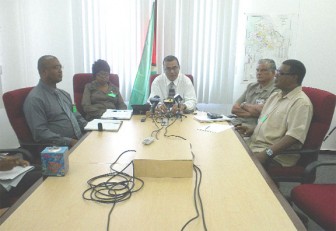 "The Guyana Geology and Mines Commission in collaboration with the Guyana Gold and Diamond Miners Association and other relevant stakeholders will continue pursuing activities to enforce compliance of the mining and other relevant regulations with an aim to regularise mining and maintaining a sustainable sector," he said.
"All stakeholders are urged to comply with the laws of Guyana and ensure the requisite documentations are in order to avoid being prosecuted, seizure of equipment and mineral produced, closing down of operations and  payment of revised penalties and fines," he added.
Persaud explained that illegal mining is tantamount to raiding, which he said is a serious offence and also the biggest threat to the country's Low Carbon Development Strategy. In addition, he said there can be serious environmental implications, which include deforestation; damage to the river banks that are the breeding grounds for most fish species; dumping of mine waste into the waterways; burning mercury amalgam without retorts; and poor sanitary conditions.
Persaud's warnings come on the heels of the formation of the Brazil Mining and General Association (BMGA) that plans to lobby government to reform the immigration process, which Brazilians say has affected their ability to live and work here legally.
Dozens of miners voiced concerns about the current government operation, which saw 94 miners deported and many others detained. Most of the miners had bemoaned the current immigration system, saying that their permits take as much as three years to be processed and in the interim they are not given any documentation to prove their legal residence. Some also complained of often being scammed by Guyanese nationals, including persons from law enforcement agencies, who promise to get them permits for exorbitant fees, sometimes as much as $400,000 but deliver bogus documents instead.
"As it relates to illegal Brazilians and other foreigners, the GGMC will work closely with the Ministry of Home Affairs and the Brazilian embassy to ensure Brazilians have valid work permits and are fully aware of the rules and guidelines of the mining sector," Persaud said in response to the concerns of the Brazilians yesterday. The GGMC and the Brazilian Embassy will prepare an information booklet in Portuguese, given the current language barrier, to assist Brazilians.
Chairman of the Board of Directors of GGMC, Major General (rtd) Joe Singh, Commissioner Karen Livan and Deputy Commissioner Rickford Vieira were also present at the press conference and echoed most of what Persaud said. They stated that that they were all proud of the results of "Operation El Dorado" since it was strategically planned, with them having on board relevant persons to deal with issues of human rights violations, language barriers, women and unlawful activities.
Vieira told Stabroek News that he led the first delegation during the operation and he was appalled at the mining conditions, especially those of illegal miners. " It was horrible… you should see some of these operations  and they just don't care and as much as Brazilians try to shy away from it, they are mostly the culprits of illegal mining here…but this is not a Brazil issue, it's about preserving and ensuring that mining in this country is done the correct way," he said.
Logistics and illicit activities were some of the difficulties encountered in the initial mission but it is hoped that future missions would take aboard lessons from the difficulties.
Around the Web