There are now two suspects in the murder of 18-year-old Nikita Ramischand, whose butchered body was found outside of her mother's salon in Trinidad and Tobago last week.
Attorney General Anil Nandlall, who is a relative of the murdered girl, told Stabroek News that the Trinidadian police have disclosed that there were two persons involved in the murder and not one as was originally believed.
The main suspect in the murder of the girl, who is the daughter of prominent Guyana-born attorney, Odai Ramischand, is a 25-year-old Guyanese man who her family had hired three months ago to complete some work on their property.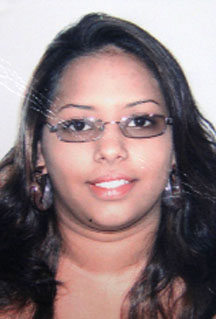 The teen had become familiar with the individual and frequently spoke to him on the telephone, Trinidad newspaper Newsday had reported.
Meanwhile, this newspaper also contacted Police Commissioner (ag) Leroy Brumell, who said that he was not informed of there being two suspects.
He added that the local police are still investigating based on previous information. He noted that there is currently a manhunt for the suspect. "The police are currently pursuing leads in locating the man… Until we get official word from the Trinidad police that there's a second person, then we will follow that," Brumell said.
Efforts made by this newspaper to obtain further information on the second suspect proved futile.
Crime Chief Seelall Persaud told Stabroek News last week that the police had contacted the main suspect's mother at his last known address on the East Bank of Demerara but she had indicated that she was unaware of his location.
Nikita Ramischand is believed to have been ambushed while walking to her mother's salon in Maracas and was dragged behind the premises and stabbed to her abdomen last week Wednesday. Her bloodied body was discovered behind the salon at about 8pm.
An autopsy performed by pathologist Dr. Eastlyn McDonald-Burris revealed that the teenager bled to death after her throat was slit. She also suffered six stab wounds to the abdomen.
Around the Web