A taxi driver was yesterday morning found with his hands and feet bound and his head bashed in at Logwood, Enmore, on the East Coast Demerara.
Dead is Rajendra Puran, of Lot 1296 Section C, Block Y, Golden Grove, East Bank Demerara. It is suspected that he was a victim of carjackers. Up to press time last evening his white Toyota Raum motor car HB 9875 was still missing.
Residents spotted the body just after 6 am and immediately alerted police. He was lying in the grass in front of a residence. Police sources said that based on the preliminary investigations, Puran was killed elsewhere and his body dumped along the dark isolated Enmore road. They said that from all appearances, the man was beaten to death.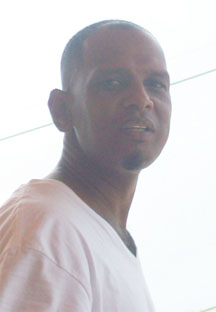 No resident recalled hearing anything suspicious prior to the discovery. They said that although the area is dark at nights, it was not a place where criminal activities occur.
When Stabroek News arrived at Enmore, police had cordoned off the area and were processing the crime scene. Relatives, including the man's wife, Vesta, were also present.
Puran's brother Nandkumar later told this newspaper that the man had left his home around 9 pm on Wednesday to ply his trade. He would usually operate out of the Diamond car park, located on the public road.
Nandkumar said Puran usually returned home between midnight and 1 am. When he did not arrive, his wife became worried.
The woman called Nandkumar around 5:30am yesterday and informed him that Puran had not returned home and that his cellular phone had been turned off. According to the man, he arrived at the house about an hour later and he subsequently made a report at the Golden Grove Police Station.
He told Stabroek News that the ranks on duty were very cooperative and made calls to other police stations. "We got word that they find a body up Enmore and when we went it was he," he said, adding that the police had already cordoned off the area when they arrived.
Nandkumar said that he last spoke to his brother on Tuesday and all was well. He said that his sibling never expressed any fear of operating his taxi, while noting that he was not that type of person.
He expressed hope that the police will ensure that the perpetrators are caught and brought to justice.
Puran, who was operating his taxi for the past three years, was a father of two.
Over the years dozens of taxi drivers have been targets of criminals. In most of the cases they were killed by robbers posing as passengers, who later escaped with their vehicles.
Puran is the fourth taxi driver to have been murdered for the year.
On January 3, GT Express Taxi driver Marc Small, 49, of David Street, Kitty, was found in a Plaisance trench near to his yellow cab, HB 7962, which was partially in the said trench. There were six stab wounds about his body.
Last month, 24 year old GR taxi driver Balram Jadoonauth was gunned down execution-style in front of his Dennis Street, Campbellville home and relatives suspect it was the result of a triangular affair. Nothing was taken from him.
On Monday morning, Satellite taxi driver and ex-policeman Renie Williams was gunned down, moments after arriving at his Albouystown home. The gunman, who had been waiting for some time, approached the car from the rear and discharged two rounds that hit him in the back. He was pronounced dead on arrival at the Georgetown Hospital.
Resident of the Guyana Taxi Driver's Association Patrick Brassington had told Stabroek News earlier this year that drivers are often cautioned about picking up passengers on the road.
Around the Web