The police are on the hunt for the driver who struck down and killed a La Grange, West Bank Demerara, fish vendor early this morning.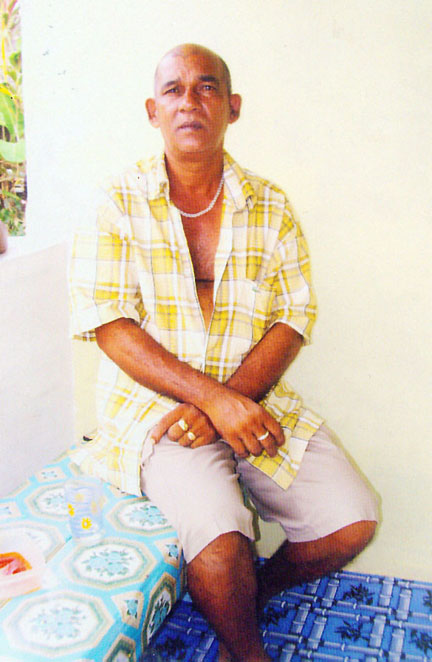 Baldeo "Painter" Mohan, 50, left his Lot 33 Doctor Dam, La Grange, home around 2 am to purchase fish at the Goed Fortuin koker. He met his demise shortly after on the La Grange Public Road.
Roop Mohan said his family was alerted about his brother's death some time around 5 am, when persons in the area raised an alarm after discovering the man's mangled body at the edge of a canal. The car and driver apparently fled the area, but a portion of the car's bumper was recovered at the scene.
At Mohan's home, relatives were trying to console his wife of 35 years, Nowrani Mohan, who was unable to speak. One of them said Mohan had left on his cycle for the koker some time around 2, which was his usual routine. They believe that he was struck down by a car while riding on the La Grange Public Road, in the vicinity of "Rambo Shop."
According to La Grange residents, they heard a loud impact some time around 2.15 am but they did not investigate it because it is a norm for drivers to collide with animals on the road.
Roop Mohan told Stabroek News that he was puzzled at how the car collided with his brother, since the street is brightly lit. He added that it is suspected that the impact of the collision hurled his brother about 50 feet.
The police are investigating and a source said the skid marks on the road suggested that the driver was speeding when the accident occurred.
Relatives suggested that Mohan may have lived if the driver who hit him had taken him to the hospital or if the residents who heard the impact went out to investigate.
His daughter, Devi Mohan, said that although her father usually left in the wee hours of the morning, he was never involved in an accident.
Mohan was a prominent fish vendor in La Grange community and many of his customers said that his death was untimely and that he would be missed. They also called on the police to bring the driver to justice, saying that the way that Mohan died was "inhumane."
"How can you just hit someone down and leave them there to die? That is just heartless!" said an irate resident.
Mohan, who was described as a generous and jovial person, is survived by his wife and two children.
Around the Web