Negligent koker attendants were yesterday on the receiving end of bitter insults from residents of flooded sections of Riverview, Ruimveldt after they left a sluice door, leading to the Demerara River, open.
The community and parts of the roadway at neighbouring Alexander Village were under water yesterday afternoon even as Georgetown Mayor and City Council (M&CC) workers tried desperately to close the koker door. Neighbouring communities were also affected.
According to a businesswoman at Riverview, sometime after 1pm yesterday, several fishermen who operate at the Ruimveldt waterfront alerted the community that water from the Demerara River were entering the drainage canal via the koker.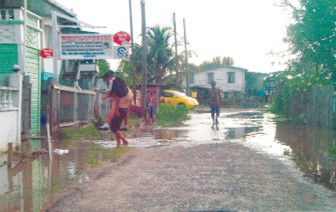 She said that residents quickly gathered at the koker and expressed their concern to M&CC personnel as the water levels in the nearby canals rose. The woman said that fishermen informed residents that the koker door was defective and that the operators had difficulty closing the structure in preparation for the rising afternoon tide.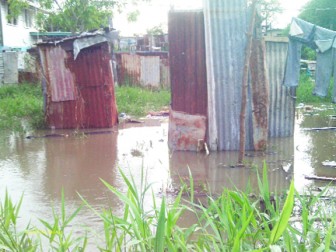 When Stabroek News visited Ruimveldt yesterday, residents were rushing to prevent the water from entering their homes while M&CC workers were refuelling a pump to bring relief to the area.
According to a food vendor, her entire kitchen was under water and she said she also suffered losses at her nearby shop. The woman related that the water level near her home rose sharply shortly after 2pm yesterday and according to her, several bags of rice were among food items which were damaged by the waters.
Further down the street, residents stated that the situation posed a health hazard since most persons in the area use pit latrines. The area surrounding several of the structures was inundated yesterday when this newspaper visited.
"These men been trying to close the door and they went away and left the door open  and we come out here and tell them that it affecting we," an elderly man told Stabroek News. He said that the community is already facing a drainage problem and he was of the opinion that yesterday's incident could have been avoided. "This water going down till tomorrow (Saturday) because they going have to wait till tonight when the water start falling to blow the koker," the man said. He opined that the city workers could have checked the bottom of the koker to verify what was preventing the door from closing."They ain't even check it out and they don't even oil it up to make it work properly," he added.
On the public road at Ruimveldt, several yards were under inches of water and residents complained that the area at the front of the community does not have effective drainage infrastructure. The compound of the Neal and Massey group was also flooded and employees were using makeshift walkways to leave.
An official attached to the M&CC told Stabroek News that the situation was being monitored and they are working to bring immediate relief to the affected households.
Around the Web