Coming off the "phenomenal success" of the concert by Bollywood singer, Sonu Nigam, the Guyana Hindu Dharmic Sabha is now closer to making a shelter for abused children a reality by the end of the year, Dr Vindhya Persaud of the Sabha has said.
While not revealing how much money was made from the concert which was held last weekend at the National Stadium, Dr Persaud told the Sunday Stabroek that the show had exceeded the Sabha's expectations since Guyanese turned out in their thousands. The singer performed for three-and-a-half hours and interacted with the audience, giving a clean, family oriented show. The singer may come back again in the future and Dr Persaud has not ruled out this being in the "near future."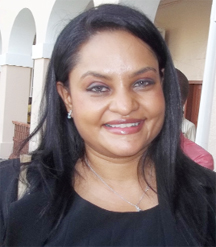 All proceeds from the concert will go towards the building of a shelter which is designed to accommodate 30 children, with adjoining quarters for their parents who may also have been abused, and who can receive counselling. She revealed that there will be facilities for babies and toddlers and adjoining areas for parents, dormitories for girls and boys, a play room, common room, kitchen, reading area, counselling area, treatment room and admin office with a play area for the children in the yard.
"It is a whole complex really to deal with abuse and for children, and more because of the statistics, their mothers, because more women than men are being abused," Dr Persaud said.
She said they are hoping to complete the complex by the end of the year.
The name of the shelter will be Bal Nivas, which means 'children's haven', and Dr Persaud said the shelter will not be limited to Hindus but will be open to children of different religious backgrounds and ethnicities. She said because they have recognized that Guyana has different peoples with varying cultural beliefs they would try as much as possible to ensure that children are provided with what they may need to help them, such as a pastor or a Muslim cleric.
"The Sabha would also encourage NGOs, the business community and other stakeholders to be on our board to run the facility, so it is going to be as broad based as possible because we want to cater for children wherever they are, whoever they are. Once they are vulnerable and once they need shelter that structure will be there," Dr Persaud said.
And it will not just be counselling that will be provided, but also skills training, as it is hoped that the women will become independent and move on with their lives. Dr Persaud said they will also seek to re-integrate the women into society as some may want to move away from the area where the abuse took place and they would want to help them. Importantly, she said, the shelter would provide a "safe haven" for the abused victims for the period of time they are housed there.
'Many calls'
Dr Persaud explained that the idea of the shelter was born in 2009 after she received many calls from around the country, but more so from Berbicians talking about children who were in abusive situations and their difficulty in getting them out of the situations.
"I got involved on more than one occasion; some were successful and some were not so successful, and it brought home to me before the end of 2009 that there was a need for a place, perhaps in Berbice, because the logistics of getting the children out and the whole long process of getting things sorted out [saw me thinking] why don't we get involved in the actual housing of these children," Dr Persaud told Sunday Stabroek.
As they continued to work on making the shelter a reality Dr Persaud said that in early 2010 they launched a programme called 'Voices against child abuse' which saw ten young people singing and making statements with the aim of reaching out to young people on child abuse. This proved to be successful. The programme was produced in a television format and there was also a live presentation at the National Conference Centre where the idea of the shelter was made public.
The first fund-raising activity for the shelter was a dinner which was attended by former president Bharrat Jagdeo, who showed an interest in the idea and committed to the government helping to making it a reality. After this more television and community-based programmes were launched and the Sabha started to look for land which proved to be difficult and costly. In the end a piece of land in Babu John was given for the purpose, and the process completed in mid 2011.
Architect Alvin Thorne stepped in with a team of five other young men to assist in the design of the building on a pro bono basis, as a means of giving back to Guyana after having been given the opportunity to study in Cuba. Dr Persaud said she had never met him before but they have been working with him and his group ever since.
And Dr Persaud said that the work of the Sabha would not just be centred around the shelter, but would also focus on working with communities to get them involved in providing a safe environment for children and assisting those children who will be in need of finding a foster home.
"We would like the community to take ownership…we want to offer training so that staffing could be done from the community, so it is also job opportunities for people in the community and getting involved in a subject that I think is very much needed now," Dr Persaud said.
She said people need to "Wake up, take notice and help" children who are being abused. But Dr Persaud also indicated that trained persons from outside the community would be brought in. Moving to help abused persons and children in a tangible way is a spin-off of the Sabha's work in other social areas, such as suicide, HIV and alcohol addiction.
Second shelter
Meanwhile, asked about a letter writer who on Thursday pointed out that there is another shelter to be built in the same Port Mourant area, Dr Persaud said initially the Sabha was not aware that anyone was thinking of having a shelter in the same area.
"In fact it was only late last year when we saw the article in the newspaper [we] knew that somebody was going to do a similar project; then we knew somebody else got land which said to me that they got the land after us," Dr Persaud said.
She said she does not think it is a bad thing to have more than one such institution; however, they had no say in the proximity of the two shelters. She said the Sabha got its land first and had already made plans to go through with it, and it is "up to the people involved if they would want to work on something if they would want to talk to us…"
Dr Persaud said she does not know any of the persons involved in the other organisation and while she cannot say what they should or should not do she hopes that they can work something out.
"It is a good idea that they are doing it also; we need more of these things all over the country so the more the better, but I just think the proximity [is not right] because it is two in one small community. Let's hope we can meet and discuss it and people can be reasonable," Dr Persaud said.
Writing in the Stabroek News on Thursday, S T Persaud said just over one month ago another Hindu organization – the New Jersey Arya Samaj – had a sod-turning ceremony for a "Humanitarian Mission Village," which was described as a future place of refuge for, among others, victims of abuse and orphans in Port Mourant. The writer questioned the logic of having the two shelters in the same community.
On a different note, Dr Persaud said she does not want to take all the kudos for the idea of the shelter and the work the Sabha does, as there is a great team of persons who have been pooling their resources to make the shelter a reality and to ensure that the Sabha helps the vulnerable and those in need. Those persons, who like herself work for free and have their own jobs to attend to, prefer to stay in the background and work quietly.
Around the Web