Alliance for Change MP Moses Nagamootoo last Friday called allegations by the Guyana Agricultural and General Workers Union (GAWU) that the party was trying to divide sugar workers and spark protest action, "malicious and reckless".
"I believe that this is scapegoating politics. This is the silly season once again where GAWU leaders have seen that there is a loss of confidence among the ordinary sugar workers in the kind of representation they are getting," Nagamootoo said in response to questions during an AFC press conference.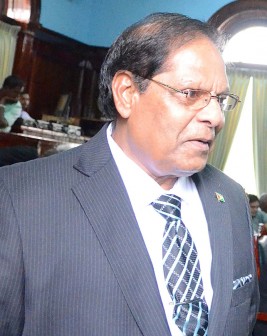 GAWU President Komal Chand during his address at the Federation of Independent Trade Unions of Guyana (FITUG) May Day rally had accused the AFC of trying to undermine the union.
While GAWU is pleased at "the substantial interest" shown by the government in the sugar industry on one hand, Chand added, it is peeved by another intervention which sought to divide the workers' ranks and undermine trade unionism.
"Here, attention is drawn to the attempts by leaders and activists of the AFC to seize on the genuine grievances of some sections of our workforce, no doubt to promote their political ends," Chand said. He added that the party has revealed an anti-working class and anti-trade union tendency and mischief is afoot. When asked at the press conference to respond to these allegations, Nagamootoo said, "I want to make it clear that we have a lot of respect for Komal Chand as leader of GAWU as well as its members."
He said that at no time did his party pretend to or actually try to represent sugar workers in a way that substituted the union. "On every occasion that we were invited by sugar workers to give them solidarity and to listen to their grievances we went there and told sugar workers specifically that we were not there to replace your union," he said adding that the AFC went in solidarity with the workers.
The MP said that after a visit to the Blairmont Estate he updated Chand on what the party told the workers.
"There is a malicious and reckless exercise to target sugar workers into racist mobilization to target Nagamootoo and [Khemraj] Ramjattan and [Dr Verasammy] Ramaya in Berbice…," he said adding that the party is distancing itself from the allegations made.
"We are a friend of the sugar workers union. We are a friend of the sugar workers and we are there to strengthen your backbone," he stressed.
Around the Web