Two families fear the worst after a mud slide at Green Valley, in Linden, caused by heavy rainfall last Thursday.
"Just one more heavy rain and dah house up deh (Wismar Hill edge) coming straight down on me," said a fearful Dolerice.
Her home is at the foot of Wismar Hill and she told Stabroek News that during the heavy rains last Thursday, the earth from the sides of the hill started crumbling, sending pounds of mud tumbling down.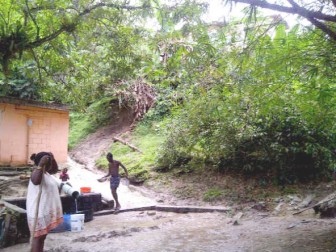 During a visit to the area, Stabroek News observed that despite the thick vegetation, the earth from one side of Wismar Hill was significantly undermined.
Ruth, who lives in the home at the top of the hill, said that the earth is cracking and breaking away in her yard. "I begging for something urgent to be done because this is problems here," she said. Both families said that if measures are not taken to stabilise the area immediately, the effects of a landslide would be devastating. Region Ten Chairman Kuice Sharma Solomon visited the area and after seeing the plight of the families, left to meet representatives of the National Drainage and Irrigation Authority (NDIA).
Meantime, there was flooding in Victory Valley as a result of the heavily silted Wakanabau creek. Residents said that the CDC groups in the past were given contracts to de-silt the creek but this has not been done in more than a year. A similar story was heard about several other key creeks around Linden.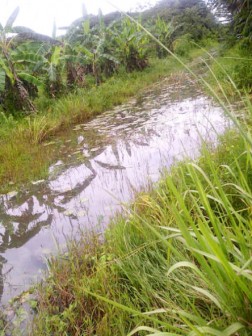 Solomon said that the CDC groups have been constantly banging at his doors about clearing the creeks and he has been notifying the NDIA of this but received no response.
Last Thursday, heavy rainfall at Linden resulted in floods that saw the central business district under at least 12 inches of water and persons trapped in shops and other buildings in the bauxite-mining community.
Around the Web