The family of Dennis Cort, who is said to have Alzheimer's, is still searching for him since he disappeared after church on Sunday, April 29.
His daughter Gail Lowe said on Friday that relatives and friends formed a search party and they combed the entire Victoria village in search of her father.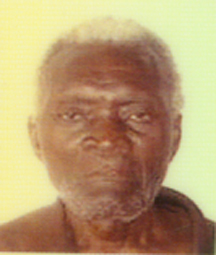 She said that since the last publication persons have come forward with information in relation to her father's whereabouts but they were still unable to track him down.
She said they had travelled to linden to see if her father had gone to other relatives, since he knows Linden better than he knows the East Coast Demerara (ECD). While in Linden, she said, she received a call from a man who said that her father had been seen heading to Victoria Backdam. When they met the young man he said he did not know at the time he saw him, that the man was missing. He said he had just noticed an elderly man wandering along the road so he approached him but was unable to comprehend what the man was saying and dismissed him. He later came to know of the circumstances surrounding the man's behaviour and subsequently placed the call.
There had been other alleged sightings, according to Lowe, but by the time they are informed and get to the area her father is nowhere to be found.
According to Low, what is more disturbing is that reports made to the police seemed to have been taken lightly and she was sent in circles. On Thursday when she and some relatives visited the Ann's Grove Police Station they were told to report to the Vigilance Police Station, but when they got there, they were told that the police couldn't assist and that when the family  finds the man they should report it to them.
The search for Dennis Cort continues and anyone knowing his whereabouts is asked to contact his daughter at telephone numbers 274-0360 or 667-0151 or if possible take him home to lot 20 Vigilance.
Around the Web