A teenaged boy who was unconscious up to press time last evening after the taxi he was in plunged into the Sussex Street Canal in the vicinity of Cemetery Road has passed away, police said this morning.
The accident sparking a protest last evening in which residents blocked the roadway and burned tyres.
Elbert Thom, 16, of Lot 181 Grove Housing Scheme was trapped beneath the water's surface for several minutes as residents struggled to free him. His mother Alma Thom and the driver Sherwin Aaron, 37, of Da Silva Street, Newtown, Kitty were rescued before the teen.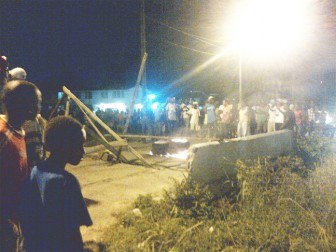 When Stabroek News arrived on the scene around 7.30 pm residents had already blocked off the eastern section of Cemetery Road with pieces of wood, while a lone policeman struggled to control the heavy traffic.
One man who participated in the rescue told Stabroek News that the car went into a hole on the roadway resulting in the driver losing control and plummeting into the murky waters of the canal.
The man said there were three occupants of the car, among them a child, who were trapped. He said that after they were rescued the trio was rushed to Georgetown Public Hospital.
The two males were immediately rushed into the emergency room for treatment.
Just the rear of the car was visible above the surface of the water, when this newspaper arrived at the scene.
The man said that this was the third accident on the bridge in about a week. He said residents have repeatedly complained about it but to no avail.
Later residents stacked tyres in front of the hole and set them alight. They said the road cannot be used until it is fixed as it was a danger to all using it.
Two uniformed ranks who were there watched on helplessly as more residents flocked the scene. One of them later called his superior saying that residents were burning tyres and a fire engine was needed.
The police today said that they are investigating the fatal accident.
The police said that investigations have revealed that Elbert Thom and his mother Alma Thom, 48 years, were passengers in motor car HB 3878 when the driver who was allegedly driving at a fast rate lost control of the vehicle which ended up in a canal.
The two passengers suffered injuries and were taken to the GPHC where Elbert Thom succumbed, while Alma Thom was treated and sent away, the police said.
The driver of the motor car is in police custody assisting with the investigations.
Around the Web