The Guyana Arts and Craft Producers Association has announced that First Lady Deolatchmee Ramotar has agreed to serve as its patron.
In a press release, the Association said its 250-strong membership was heartened by the enthusiasm and guidance the First Lady displayed when she visited the group's work site at the former Transport and Harbour railway terminal building on Water Street on March 29. Government had donated the site, $10M for rehabilitation works and has pledged another $10M for a revolving fund for arts and craft producers, the release said.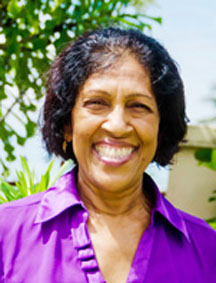 During her 90-minute visit, Ramotar had expressed appreciation for the Association's contribution towards improving citizens' livelihood, particularly women. The ceramics sub-sector also received high praise when the First Lady saw how low-cost materials were being used in the production of pottery. She was also surprised at the simple, cost-effective capital required for start-ups in the sector and was delighted to learn of the extensive use of local materials in production.
The Association said it is confident that with Ramotar serving as patron, her experience and training as a teacher and her passion for artistic things would propel its membership from micro to small and medium-scale operators.
Around the Web