The Government is yet to decide whether an appeal will be filed against last Wednesday's decision by acting Chief Justice Ian Chang throwing out its challenge of the numerical make-up of the National Assembly's Committee of Selection.
Attorney General Anil Nandlall yesterday said a "way forward" would be known after the issue is discussed at Cabinet level.
Nandlall contacted by Stabroek News said that he received a copy of Justice Chang's written decision on Friday and is studying it and the matter would be discussed at tomorrow's scheduled meeting of Cabinet. He pointed out that Justice Chang handed down his decision after last week's Cabinet meeting and as such the "way forward" would only be known after it is discussed by the President and his ministers.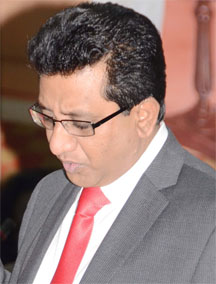 Chief spokesperson of the Government, Dr Roger Luncheon one day after the ruling stated that the administration was unhappy with the ruling and that it would be studying its implications.
"Certainly it is a decision we are unhappy about and it has implications for the way in which we would be functioning and the way in which the Tenth Parliament would function and that is a matter under study," Dr Luncheon had told reporters last Thursday when asked about the issue.
Justice Chang ruled that the court had no jurisdiction in the matter since there was no evidence of a constitutional breach.
Justice Chang, who also found that the constitution does not mandate that the Committee of Selection and other parliamentary standing committees must reflect the proportion of seats held by the parties in the National Assembly, concluded that Nandlall's constitutional motion had been "legally misconceived".
Nandlall had filed the motion in February to challenge the numerical make-up of the Committee of Selection and to settle the composition of others, saying that they ought to be reflective of the votes won by the parties at the last general elections. He proposed that five seats on the committees go to the PPP/C, with four to APNU and one to the AFC, as opposed to the current make-up, which sees APNU and the AFC with four seats and one seat, respectively, while the PPP/C has four seats.
Opposition Leader David Granger and Speaker of the National Assembly Raphael Trotman were named as the respondents in the case.
Around the Web