Following two attempts to torch his car, an East Coast Demerara businessman is blaming an ongoing feud over a piece of land as the source of the attacks and he is calling for a thorough investigation.
Jam's Halal Restaurant Proprietor Mohammed 'Jam' Fazimamin, of Lot 8 Montrose, said that he suspects the attempts were made by a village resident with whom he is embroiled in a court case.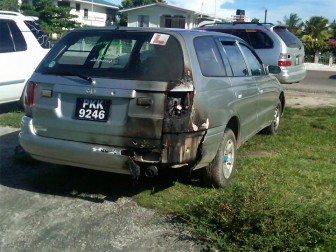 "I suspect [name given] and that is the person I suspect and I never get this problem with no one.
He doing all of this because of the court story…," Fazimamin said.
Fazimamin told Stabroek News that on Sunday, he got up around 5:45 am and noticed the right side of his car, PKK 9246, was burnt. He said that the car is usually parked on the road but after the incident, he started parking the car, along with his two other vehicles, in his restaurant after closing up. He added that he awoke to screams of fire sometime around 3:35am yesterday and upon investigating, he discovered his vehicle was on fire again.
"I smell smoke inside the house and there were persons on the road shouting 'fire, fire,' so when I came out, the entire place was blackened with smoke and fire was on the car bumper," Fazimamin recounted.
He noted that a pile of 'Euroband' was found beneath the car, which he suspects was used as mechanism for setting the vehicle alight. The restaurant's windows were smashed in, through which the attacker/s gained entry.
The visibly upset man said that he cannot estimate the cost of the damage but noted that it is extensive.
He added that as a result of the latest attempt to torch his property, he cannot fully operate his business, which is also costing him.
He also called on the authorities to take his complaints "realistically" because it signals a threat to him.
Around the Web