Six students from the University of Guyana will be representing the institution at the 30th Model of the Organisation of American States (MOAS) for universities in the hemisphere in Cochabamba, Bolivia from May 16-19.
The students who are members of the University of Guyana International Affairs Association (UGIAA) will depart Guyana today for Panama, where they will uplift their Bolivian visas and then leave for Bolivia on May 14.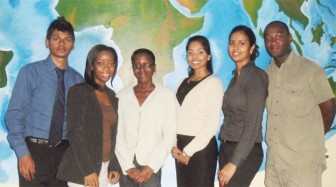 The students will be representing Jamaica and its position on various issues through five committees; general – which will be focused on access to clean water as a basic human right for people of the hemisphere, first – which deals with legal and political issues, second – which looks at hemispheric security, third – which is the committee on summits management and fourth – which is focused on the administrative and budgetary aspects of countries in the hemisphere.
Members of the delegation are head of delegation, Kevin Fogenay who is the vice-president of UGIAA, and who will be sitting in the general committee, Tandy Primo (first committee), Tash Van Doimen and Inderpaul Bisnauth (second committee),  Uma Bux, (third committee) and Tricia Teekah  (fourth committee).
They will be accompanied by their faculty advisor and lecturer at UG, Kadasci Ceres.
The MOAS will take place at the Universidad Privada del Valle campus, located in Tiquipaya, Coochabamba.  The focus of the model is to promote food safety sovereignty in the Americas  and  500 students will be participating from 34 countries of the Americas.
MOAS is a simulation exercise of the proceedings of the OAS Permanent Council and the annual regular sessions of the General Assembly that provides students in the discipline of international relations with the experience of participating in a replica of the functioning of the OAS General Assembly proceedings.
It is aimed at engaging students of the hemisphere in debates, lobbying, negotiations and working groups' experiences, while at the same time familiarizing them with important topics of interest and problems affecting the region.
The 30th MOAS is organized by the Department of International Affairs, together with the Ministry of Foreign Affairs of Bolivia and the  Universidad Privada del Valle of Cochabamba.
The model will take place prior to the OAS General Assembly meeting which is scheduled for June 3-5 in Cochabamba, Bolivia.
Around the Web