The Guyana Revenue Authority (GRA) on Tuesday premiered its fully automated Motor Vehicle Certificate of Registration.
A release from the GRA yesterday said that with effect from May 8, 2012, motor vehicle owners will be issued with the new document which is expected to significantly cut the time spent by motor vehicle owners at the Licence Revenue Office (LRO). Members of the public have complained about these delays for many years.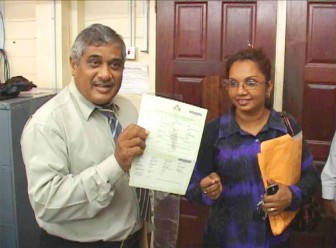 The registration module of the Licence Revenue Processing System (LRPS)
Software for the new official document was developed by the GRA's in-house software programmers, the release said. It includes enhanced security features such as a watermark, micro fibres and Ultra Violet (UV) images to allow for the detection of fraud.
Commissioner-General of the GRA, Khurshid Sattaur said in the  release that the new initiative had been in the making for some time.
He said that initially, the new document would be issued to persons registering new vehicles and whenever there is a change of ownership of a vehicle, or change to any of the markers (e.g. engine number, chassis number, colour of vehicle) stated on the automated registration.
Sattaur said that due to the large number of vehicles in circulation, in excess of 80,000, the previously issued manually-made documents would still be valid. The GRA would be phasing in the new document.  "I think this system will serve us well as it relates to our standards in this country," he stated.
"We can now track Motor Vehicle Registration by their serial numbers. All
registrations issued and cancelled will be recorded in the Licence Revenue Processing System (LRPS) and therefore, LRO will be able to verify legitimate registrations. In addition, there will be a significant reduction in time and errors in processing the Certificates of Registration since the Motor Vehicle registrations will be printed and not hand-written," the Commissioner-General said in the press release.
Describing it as a major achievement, Sattaur said that the public should expect further improvements to be made.
During a small ceremony to launch the new document, the Commissioner-General handed over the first automated Certificate of Registration to a motor vehicle owner in the LRO's compound in the presence of senior GRA staff.
Around the Web