A pork-knocker who is alleged to have unlawfully wounded his reputed wife was yesterday denied bail by Magistrate Hazel Octave-Hamilton.
Kurt Luis made an application for bail in the Georgetown Magistrates' Court after he was accused of unlawfully and maliciously wounding Sandra Parks on April 26 in Georgetown.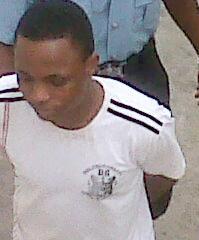 However, Police Prosecutor Corporal Simone Payne objected to bail for the 21-year-old Leopold Street resident  on the grounds that he has other matters to be brought before the court tomorrow.
The prosecutor stated that Luis has two other matters of a similar nature along with a simple larceny charge which was filed separately at the East Ruimveldt Police Outpost.
Luis interrupting said that he has no prior knowledge of any simple larceny charge but he was told by the magistrate that what is more important was the fact that the other charges involved the same complainant.
Bail was denied and the unlawful wounding matter is to be called again on May 21 in Court Six, but  Luis has to return to court today on the other charges.
Around the Web