Relatives of the man accused of killing a Trinidad teen have fled their homes after receiving threatening phone calls from a man who identified himself as a relative of the murdered teen.
Dhanwantie Sookram, the mother of the suspect Ramesh 'Alvin' Sookram, 25, said that her two other sons who lived close to her moved away from the area because they fear for their lives after yet another threatening phone call yesterday. The tearful woman who visited Stabroek News' office said that she too is afraid and plans to move out as well. "I can't take it no more. It's too much," she said.
She again appealed to her son to turn himself in to the authorities. Sookram said that yesterday a man, who identified himself as a close relative of the murdered teen, called and said that he was coming to Guyana and threatened to kill her and her husband. This was not the first time he called and she had attempted to report a prior phone call to the Timehri police but the rank she spoke with did not take a statement, Dhanwantie said.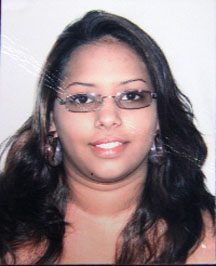 She said when the man called again yesterday, he said that the police would not help her. "He seh the police themselves call he and tell he me report he. He seh if I feel that the police is going to help me, I lie," the tearful woman said. She said that the family is scared and her two sons and their families moved away yesterday. "I also going to do the same thing because I afraid for my life," she said. Dhanwantie stressed that she plans to move because of the threats and not because she wants to avoid the police.
She had told Stabroek News on Friday that men who identified themselves as the police are also "harassing" her family. She said that because they were not wearing uniforms, she believes that the men were not police. They were armed with guns and beat one of her other sons, she said. Now, Dhanwantie said, they are very fearful and her 12-year-old-daughter is afraid to go to school and has not done so for several days.
Ramesh Sookram is the main suspect in the brutal murder of 18-year-old Nikita Ramischand, the daughter of prominent Guyana-born attorney Odai Ramischand. Nikita was believed to have been ambushed on April 25, while walking to her mother's salon in the compound of their LP 46 Maracas Royal Road, Maracas, St Joseph, Trinidad and Tobago home. She was reportedly dragged behind the premises and brutally murdered. Her bloodied body was discovered behind the salon at about 8 pm. An autopsy revealed that the teenager bled to death after her throat was slit. She also suffered six stab wounds to the abdomen.
A cousin who was in Trinidad at the time returned with the suspect to Guyana and has since left his home. Dhanwantie said the cousin had only gone there six weeks before. Another relative said that when he returned he was at home for a while but left after a disagreement with his stepfather and he has not been seen since. Dhanwantie yesterday again appealed to her son to turn himself in to the police.
Around the Web