Renowned artist and sculptor Phillip Moore, famous for the towering 1763 monument at the Square of the Revolution, died yesterday at his Lancaster, Berbice home in his sleep.
Moore was 90 years old and had been in declining health in recent years. The art and culture icon was best known for the 1763 Monument, which portrays the 1763 Berbice Slave revolt through several artworks mounted on a bronze statue of the artist's interpretation of the revolt leader, Cuffy.
His daughter, Corine Munroe and son, Phillip Moore Jr., the only remaining two of his five children, told Stabroek News that the artist was discovered dead sometime around 5am yesterday in his bed at the home he shared with his son in Berbice. They said that he had been bedridden for the last two years and was also deaf because of old age. Although doctors had prepared them for their father's demise, they said that it was still heart-rending.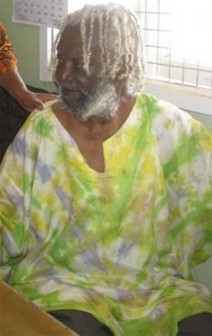 "I am very saddened to hear of his death. Phillip has been very influential and his contribution to the arts in Guyana was immense," Minister of Culture, Youth and Sport, Dr. Frank Anthony told Stabroek News yesterday. He referred to Moore as the father of Guyana's art and said "he demonstrated through his paints and sculpting that he lived by example given his high quality of work and although he has died he has left us with a legacy and for that we are grateful." The ministry will today send representatives to Berbice to meet Moore's family.
Elfreida Bissember, Curator of the National Art Gallery at Castellani House said Moore through his work made an invaluable contribution to Guyanese. "Despite the fact that we were prepared for his passing, given his age and health, it was hard. It is a tremendous loss for his work is of such importance in the preservation of Guyanese art history," she said. "It is through his work we know that we would have lost him in flesh but not in spirit because as long as we have his work he will always be with us," she said. "Phillip was a model and core sculptor. He cast his net very wide in getting his work and expressions shown though his pieces…he fashioned his own language and represented Guyana proudly, he was loved by many and will be missed. Castellani House is grateful for the many pieces we have and we will preserve and treasure them while knowing Phillip is still with us," she added.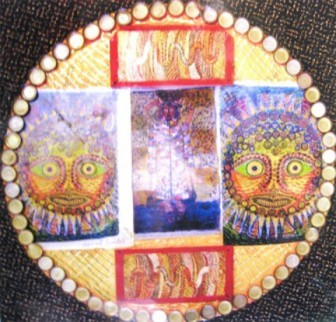 A former professor of art at the Burrowes School of Arts here and at Princeton University in the US, Moore is recognized for his influence on artists both here and further afield. His myriad pieces of paintings and sculptures mostly illustrate Guyanese culture though the unique merging of his experiences and inspiration. It was his non-conformist attitude to artistic styles that made him stand out from other artists since he incorporated varying techniques, producing work of a high standard while influencing aspiring artists to do the same.
It is for his unique artwork that Moore will be most remembered said art critic and university lecturer Al Creighton. "It is disappointing, we know he had some age but we would have liked to have him longer because of the depths of his thoughts which are so valuable. He produced work of a calibre that you don't find often and focused on a particular kind of art which is not entirely intuitive art…it was highly intellectually driven where he merged art formed by the tradition and mixed with spirit and gave it Phillip's style. The elements he incorporated made it highly original and prolific but of an unusual nature," Creighton said.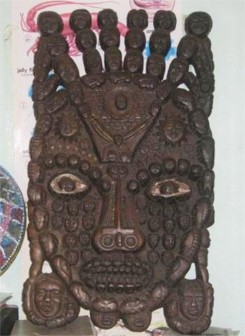 He stated that he always admired the confidence Moore placed in his work as he was proud of his African traditions and was not afraid to depict it. "Guyanese art gained a great deal from his contribution and his most known public contribution has left him with an outstanding legacy we should be all proud of," Creighton added.
Moore's friends, past students, art collectors and persons impacted by his work also paid tribute to an artist who they fondly remembered as always being pleasant and supportive. They described him as one who always believed in tapping into one's spiritual Zen and who dared to be different. Past student and longtime friend Bernadette Persaud said that it was Moore's creative and original stance that was most influential for her. Using herself as an example she gave credit to her past professor.
Moore was bestowed with the Cacique Crown of Honour (CCH) for his exceptional contribution to Guyanese art two years ago and received many other accolades.
He had told Stabroek News in an interview that "art is a form of visual education to stimulate" and it was through this medium he imparted his knowledge to many artists both home and in the Diaspora.
In a 2010 interview with the Sunday Stabroek,  Moore had said that "When you are an artist you can't stop thinking."
With a chuckle he remarked that "some divine intervention wanted me to become an artist."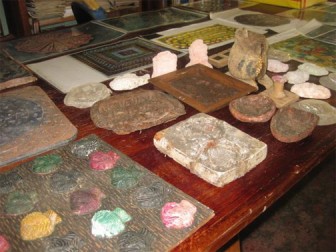 He explained that it all started one Friday as he was working in the canefield. "A wind came and encircled me and then something inside me said 'so long you wanted to carve a man's head out of wood; get up and do it.'"
He then took his cutlass and cut a piece of wood from a tree and carved a man's head perfectly, although he had doubted he would ever be able to do it. After that he said persons started telling him, "You got all that talent and you working so hard on the farm."
Although he had discovered his hidden talent he still kept going to the backdam to work. "Not just because I was making a living but because I would get to cut the wood which I used to carve at nights," he explained.
As his talent grew, so did the demand for his pieces, and he started making his own moulds "so I could do mass production."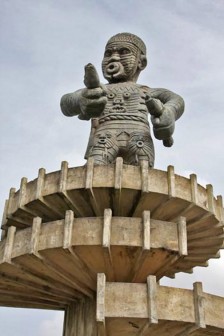 1763 monument
He kept on experimenting with different designs and did "fantastic work until persons from the US came and saw that my work was so original and they hired me to work at the Princeton University."
Moore later became a professor at the university and had a meditation museum there "where art became a symbol of deeper meaning in life."
His talent was further highlighted when he answered an advertisement in the local newspapers in 1970, and he submitted an entry for the design of the 1763 monument.
He was elated when his entry was approved. He subsequently got down to designing the four foot model at the university. It was later sent to England where the statue was cast in bronze and shipped to Guyana in 1972.
In a statement today, the Alliance For Change said it learnt with great shock and profound sadness of the passing of national hero and cultural icon Phillip Moore. It offered its deepest condolences to his family in this their moment of great loss.
"Phillip Moore's  contribution to the history of the Republic is unparalleled. His mastery of art form and his intimate knowledge of the collective struggles of our people were without precedent in the field of art. In the words of our poet Laureate Martin Carter "Dear Comrade we salute you and we say death must not us thinking that we die". Farewell Phillip, may your soul soar forever", the statement said.
Around the Web