(Trinidad Express) A mother who wanted nothing more than to be reunited with her estranged son on Mother's Day was brutally beaten on the head by the man, who afterwards took his own life yesterday.
Batia Ramsumair, 70, collapsed and died on the doorsteps of her son's house at Sukhan Trace, Barrackpore.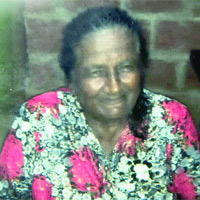 Her son, Basdeo Ragoobar, who wanted nothing to do with his mother and siblings, drank a poisonous substance and died in a track at the back of his house.
Relatives said the mother and son severed ties almost 18 years ago when he beat and chased her from the family's home.
Ramsumair moved in with an older son, Sookdeo, at Jones Trace, Barrackpore.
Police said there was an ongoing dispute between the mother and son.
Several reports of domestic violence were made against 47-year-old Ragoobar.
He was recently imprisoned for breaching a protection order, police said.
Dass Ragoobar, another son, said: "But she kept trying to talk to him. That was her son and she wanted him to come back into her life. She loved him so much. And every time she tried to talk to him he would want to beat her. Yesterday I was talking to her and she tell me she going to talk to (Basdeo) this morning because it is Mother's Day and he will have to talk to her. I beg her to stay away from him because he was a violent person. He always wanted to beat people. But she said no, it is Mother's Day and she going by her son."
Ramsumair took a taxi to her son's house around 9 a.m. Neighbours said they heard loud voices and then Ramsumair was seen lying in the front yard.
Her face was covered in blood.
Police said the elderly woman was struck on the head with a blunt object.
A murti of the Hindu god Hanuman was on the ground, near Ramsumair's body.
But officers were unable to confirm if the murti was used as the murder weapon.
Ragoobar ran through a track at the back of his unfinished house after the attack.
Police responded to the report and found Ragoobar lying face down in the bushes, dressed in a pair of short pants. A bottle containing a brown liquid was near his body.
A relative and six-year-old child were at Ragoobar's home when the incident happened.
Police were last evening searching for the woman and child who left after Ramsumair was killed.
Ramsumair was a mother of five.
"My father was sick, so he couldn't do much. My mother single-handedly raised five children. She sacrificed and make sure her children always had something to eat. She used her own hands and build the house that Basdeo was living in and he put her out. She loved all of her children and because of that love she was killed," Dass Ragoobar said.
Ramsumair's four children and grandchildren had planned a surprise luncheon to celebrate Mother's Day yesterday.
Her son-in-law, Ravi Ramdass, said they had planned to cook and spend the day with the elderly woman.
"Yesterday we took her out to a restaurant and for a drive. And today we were in the grocery buying things to make lunch for her when we got the call," he said.
His wife, Annie, was inconsolable.
"My mother wanted to spend Mother's Day with him (Basdeo). Look she get to spend Mother's Day with him, but not with us," she cried.
Relatives described Ramsumair as a loving mother, who always wanted to see her children happy.
Her 15-year-old grandson, Krishna Rajkumar, said, "Nani just wanted to speak with her son on Mother's Day. She loved him so much. I can never accept something like this."
The bodies of mother and son lay side by side as they were taken to the Forensic Science Centre in St James.
Southern Homicide Division officers are continuing investigations.
Around the Web