A two-car smash-up on the Cotton Tree Public Road, West Coast Berbice on Sunday night has left one man dead and six others injured.
Dead is Raymond Madray, 23, of Bennett Dam, East Bank Berbice. Injured are Madray's brother, 27-year-old Permaul Madray; their friend Satyanand 'Kevin' Persaud, 24, of Essequibo; his girlfriend 18-year old Rashana Jarawala of Berbice; Babita and her husband Kevin Williamson of Bush Lot, West Coast Berbice and Geeta Persaud, 35, of Golden Grove, East Coast Demerara.
According to the police, the younger Madray was driving his car PFF 9723 east and was negotiating a turn when he collided with another car PHH 8004 driven by Geeta Persaud who was proceeding in the opposite direction. It was also reported that Madray was speeding and lost control of his vehicle while banking the turn.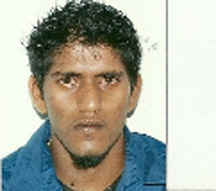 Babita told this newspaper that as they were returning in Geeta Persaud's vehicle she (Babita) dozed off in the vicinity of De Edward, WCB but was jolted awake when she heard her husband urging Geeta Persaud "to look out". She said that upon hearing that, fear gripped her and she then felt and heard the horrific impact.
She said that she then began to slip in and out of consciousness during the ordeal but could grasp some of the conversation between her husband and Geeta Persaud. She said she heard the woman lamenting that her feet were broken.
Ahmad Bacchus, an eyewitness, told Stabroek News that he had just retired to bed when he heard a loud bang outside his home. He said that he told his wife that the persons involved in the accident must be seriously injured and they rushed to the scene.
He added that they were the first persons to arrive and they immediately began to render assistance to the wounded persons. He noted that Geeta Persaud was pinned in her vehicle and it took approximately ½ hour or more to get her out.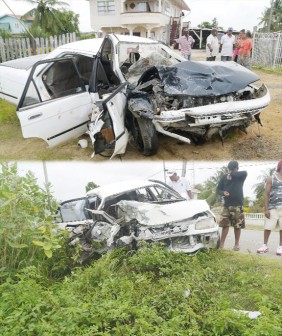 He said that they got the injured woman out by prying open her side of the car with a minibus and immediately rushed her to the Fort Wellington Hospital where she received medical treatment. Bacchus added that by the time they attempted to render assistance to the younger Madray, who was also pinned down in his vehicle, he had already died so they shifted their focus to the other injured persons in the vehicle.
An ambulance from Blairmont Hospital arrived at the scene and rushed Satyanand Persaud, his girlfriend and the elder Madray to the New Amsterdam Hospital where they received medical treatment.
Madray, Satyanand Persaud, Jarawala, Williamson and Geeta Persaud were transferred to GPH while Babita was treated at the Fort Wellington Hospital and sent away. Madray and Satyanand Persaud are listed as critical, according to their family members.
When Babita was contacted yesterday she complained of pains about her body but said that she is doing ok while her husband is complaining of severe stomach pains but is said to be recovering well.
When this newspaper visited Jarawala at the hospital the young woman was moaning in pain and complaining of stomach and head aches. Satyanand Persaud's mother, Loraine Persaud told this newspaper that her son had gone to Berbice to visit some friends.
Around the Web