The Texila American University is embarking on a new nursing programme here come September and its student population is expected to expand from 75 to 200 by the end of the year.
The university, which is housed in the Critchlow Labour College compound at Woolford Avenue, Georgetown, was established in Guyana in September, 2010, introducing its medicine and dentistry programmes. These programmes have been making progress, Public Relations Officer Liz Rahaman said, and the university is ready to expand. "We have had a lot of progress over those two years and lots of international students have made inquiries so we are growing," she said.
Chief Executive Officer and Executive Vice President, Saju Bhaskar, yesterday told Stabroek News that the medicine and dentistry programmes have taken off and the university was now preparing to launch the nursing programme in September.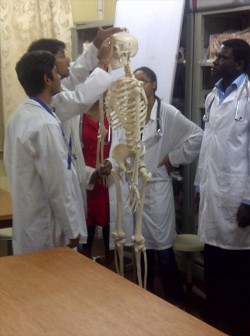 Among the student body, he pointed out, are persons from the United States of America, the United Kingdom, Canada, Nigeria and many other places. With vast amounts of inquiries being made, Bhaskar said, administrators are looking to acquire new facilities to expand their campus. Currently, students have access to well equipped labs, one library and several classrooms. However, to accommodate more students, expansion work will be needed. Bhaskar said he expects a total of 3,000 students to be enrolled by the end of a five-year period.
At present, there are 15 local students attending the university who are required to pay tuition fees 50% less than that of foreign students. "They pay a little fee when compared to international students and there are also two students who are on full scholarships… The students that come to Guyana spend about US$10,000 into the economy so if 100 students come, that is US$1million in the Guyana economy," he said. It was explained that US$ 10,000 tuition fee is paid per year.
He further stated that Texila is currently seeking partnerships with two universities, one in the UK and the other in the USA to which will facilitate students who will become enrolled in the nursing programme. Students will be required to study two years here in Guyana and complete the final two years in one of these two countries. While here, students will undergo practical training at the Georgetown Public Hospital.
Bhaskar said that although no programme has yet been completed, it has so far been really good with support from the local community. He said 15 Guyanese lecturers were hired and are working along with other full-time international lecturers.
Students are eligible for admission if they have five passes at the Caribbean Secondary Education Certificate examinations, with the minimum of Grade 2 in Science subjects.
When asked why Guyana was chosen, Bhaskar said that although there are many schools in the Caribbean where students from the US and Canada go and study medicine, the Texila American University found Guyana advantageous because of its low cost of living; because its an English-speaking country and free of hurricanes which can gravely disrupt studies.
Around the Web