Regarded as the best local sculptor of his time, the body of Philip Moore was yesterday interred at Auchlyne, Corentyne after stirring tributes and pledges to ensure he is finally laid to rest at Seven Ponds, Place of Heroes in the city.
Moore passed away two Sundays ago at age, 90.
While Opposition Leader David Granger glowingly hailed Moore as a poor and modest man with a rich legacy who deserved to be properly recognized, he vowed that the People's National Congress Reform and by extension A Partnership for National Unity will earnestly press until Moore is interred at Seven Ponds.
"I spoke to the General Secretary of the PNC Reform who instructed me to inform you that our party will continue to press for official recognition… until Philip Alphonso Moore's remains is interred at the Seven Ponds", Granger told attendees at the ceremony to celebrate the life of Moore, which was held, at the Liverpool Community Centre.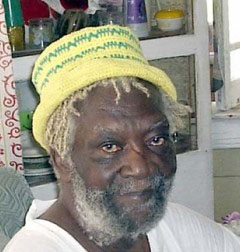 Granger noted that Moore was the most prolific artist Guyana ever produced not because he was always busy working on something of value but because he was the embodiment of a magnificent mind, a feature that also came out in conversations with the icon. "He was an ordinary villager who did extraordinary things …he lit a fire in the cultural landscape of this country that could never be extinguished…he was not a painter of city halls and cathedrals he did not seek to imitate the world around him he sought to interpret the world around him and everything he did had symbol…" he said.
Similar sentiments were expressed by Alliance For Change executive member, Nigel Hughes, who stated that he had come into contact with the work of the "beautiful soul" and "national treasure" at the Hadfield Foundation and could therefore speak extensively of what Moore represented and deserved. "I think it is fitting that we send him off as a national hero …we still have not interred the remains of this patriot where they are supposed to be at the Seven Ponds… let us therefore ensure that this brother is interred where he is to be interred " Hughes said, much to the thunderous applause, of persons at the Liverpool Centre, with some even standing and shaking their head in agreement.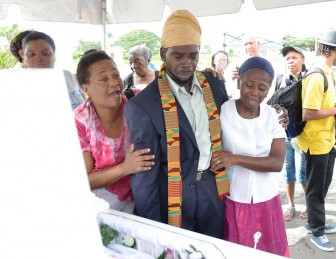 Minister of Culture, Youth and Sport, Dr.Frank Anthony, represented both government and his ministry. He was accompanied by Minister in the Ministry of Finance, Juan Edghill. Anthony shied away from mentioning anything of Moore's interment, much to the disappointment of the attendees, who after he spoke could be heard murmuring about his silence on the issue. He instead, using the iconic 1763 monument as an example, paid tribute to Moore as not just an ordinary artist but one whose craft was used as a lasting medium to educate Guyanese about their history through the arts."
He spoke of the former Princeton University art lecturer as a man of honour who helped to shape and elevate Guyanese thinking.  "He has made quite a substantial contribution to the arts of this country …the contribution that Mr. Moore made helped to shape us as a people .You can go to no other part of this world and see that work because he was expressing within, and while he was expressing for himself  he was also expressing for all of us."
"His works contain profound meanings. It is told to us as a story about our people and that is the kind of contribution he left for us …he did not use art for art sake he used art to educate us as a nation," he said.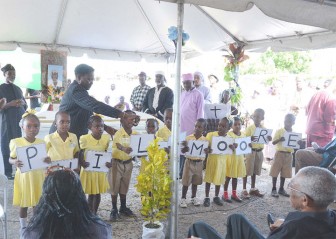 Eusi Kwayana, Moore's longtime friend was not present but through a poem, read by APNU Vice- Chairman and Executive member of the Working People's Alliance (WPA), Dr. Rupert Roopnaraine, paid tribute. In the poem 'Tall Palm Tree', Kwayana used symbolisms as he gave insight into his friend's works, the many lives he touched and the indelible contribution he made to Guyana.
Friends, many students, art collectors and those touched by his works were able to view, earlier yesterday morning Moore's  embalmed body at the Square of the Revolution, another point of contention between the ministry and the family. That event was made possible because of the financial contributions and the intervention of various cultural groups, who on Monday evening brought his body to the city a move, much appreciated by his family. Originally the ministry had had no plans for his body to be brought to the Square, site of his most famous work.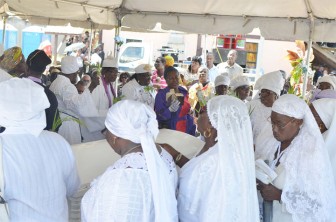 With the monument he was most known for towering in a bronze background, viewers lamented about him not having a burial at the Seven Ponds but expressed joy in being able to nonetheless bid him a final farewell.
"Philip must be pleased just being here, his spirit is now somewhat relieved, we will bring you back to Georgetown where you should be, and Philip today and every day should be your day. We will fight that you be given your due", were some of the sentiments expressed by viewers even as loud drumming and chanting by a Jordanite group reverberated at the Square.
Many then openly expressed outrage that his body would be taken to Corentyne to be buried and some were even anticipating a call that plans had changed for him to be laid to rest at Seven Ponds.
However that was not to be and at sometime after 11 am his body began its journey for the Liverpool Community Centre where the service was held. There, scores of Berbicians along with those who filled the 30-seater buses provided by the Ministry of Culture in Georgetown, flocked the centre for a last glimpse of the man referred to by fellow villagers as 'Pa Moore", long ago their cricket hero and longstanding mentor.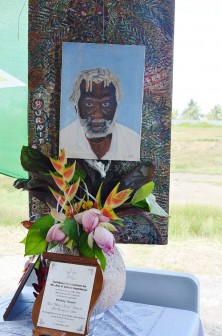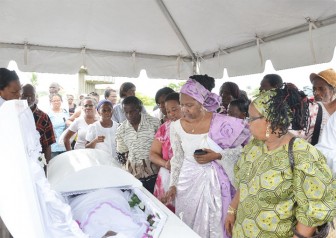 His nephew Dr Michael Scott chaired yesterday's Liverpool funeral ceremony. Moore's family explained that Scott was the person most impacted by Moore's life given he was the one responsible him studying hard and thus receiving a scholarship at Queen's College and becoming Chief Surgeon at a U.S hospital. He reminisced on fond childhood memories with his favourite uncle who was stern yet "very human".
In contrast to traditional ceremonies, Moore's was joyful and termed a celebration as he had ordained that his mortal being was only loaned to him but that at death it should be a celebration of another life into which he would then journey.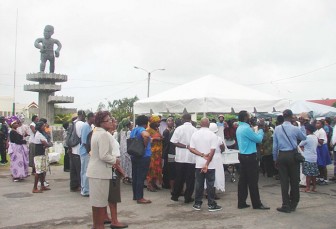 At around 5pm the renowned artist and sculptor's body was taken to the Auchlyne Cemetery amidst African mystical proceedings, where he was laid to rest, as many still questioned, if finally.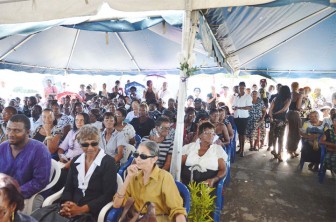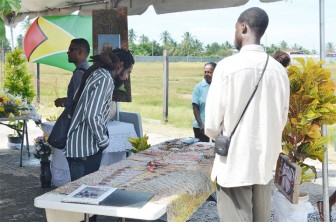 Around the Web