On Wednesday, Agnes Benjamin, of Silver City, Wismar, Linden, celebrated her centennial birth anniversary and she credited her strong faith, devotion, her passion for cleanliness and maintaining a healthy diet for her long life.
Benjamin, well-known as "Aunt Aggie," was honoured at her home by members of the Linden Policing Group, the Regional Democratic Council and the regional arm of the PNCR's National Congress of Women (NCW), which offered hampers and a birthday cake and other gifts in recognition of her milestone.
Linden's newest centenarian was happy to have been recognised by the community organisations and she showered them with blessings and urged them to do their best to maintain a healthy lifestyle, which should include keeping their homes and surroundings clean and tidy.  "I am happy that God has kept me to this age. I am grateful to him but I think this is enough for me," said Benjamin when asked if she would like to see many more years.  She has been visually impaired for about 30 years and explained that although her voice stills rings out firmly, she is in constant pain. "These knees are like a baby now, they pain if I am to kneel; my hands, shoulders and back are all in regular pain and I would talk to God, who gives me relief and the strength to bear it sometimes," she said. She firmly believes that she has been kept alive as long as she has for a special reason, since none of her ancestors lived as long. Her mother died at the age of 32 while her father died before the age of 70. She was the second of six siblings. Now, only one of her siblings is alive.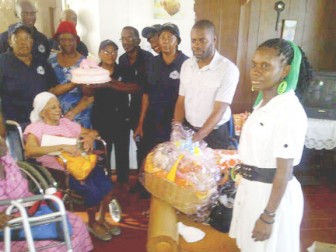 During Wednesday's celebrations, Benjamin related some of the most memorable days of her life, which were still very fresh in her memory, including when her father, a policeman, was called to serve in the World War. "When he hear them come for him he ran and hid under the bed," she said, bursting into laughter as she recalled the incident. "They told my mother that they had heard his voice and they went on to search the house." Laughing again, she related that "deh saw his foot left out part way and is so they got him."
She also spoke about her passion for cooking, which led to the opening of her diner, for which she became well-known. Aggie's Kozy Diner was operated at the bottom flat of her two-storey home, which she shared with her husband until his death in 1990. The diner was a household name and was frequented by magistrates, lawyers and others who held high profile jobs in the community. "The place was a place for everyone but I had strict rules," she said, referring to the dress code. She was also very vigilant and firm regarding littering. Explaining that she has always maintained a healthy lifestyle, she said that she ensured that proper waste disposal facilities were always available at her business. Though she has no children of her own, she has mothered the retired headmistress of the Watooka Primary School and several persons who respected her for the principles she upheld. "For all the years I have known Aunty Aggie she has been a very neat and disciplined woman," said Ann Ramsay, a neighbour of Benjamin for more than a decade.
Around the Web