Irate residents of a section of Wismar took to the streets yesterday to vent their spleen, after having, according to them, foiled an attempt by National Director of Community Development Councils (CDCs), Philomena Sahoye-Shury, to install a CDC in the area.
Contacted last evening Sahoye-Shury, well-known as `Fireball',  told Stabroek News that as chairperson of the national committee which overlooks CDCs, she has the authority to carry out the mandate of the position she holds.
The residents said that on the grounds of exercising their democratic rights and in umbrage at disrespect levelled at Regional Chairman Kuice Sharma Solomon, they converged, uninvited, on a bottom house meeting  Sahoye-Shury had convened with some Lindeners and where she was poised to appoint a CDC.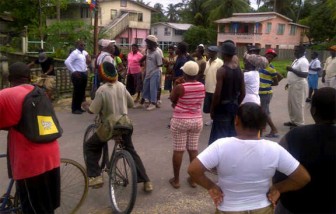 "I did not appoint myself to that position," she said. "My position falls under the authority of the Local Government and Regional Development Ministry and the regional chairman has no authority to interfere."
The area, Water Lily Road popularly known as Poker Street, already has a CDC, which is headed by Leslie Gonsalves, a Regional Democratic Council member. The residents said that contracts are to be awarded to CDCs for the cleaning of drains and canals in the community. Gonsalves told this newspaper that his group had applied for the contract to clean the canals. "That is a right and one of the functions of CDC," said Gonsalves.
Gonsalves explained that the CDC in the area had been dormant for some time. However, an election was held among residents to revive the group. Gonsalves was elected chairman; Waddington Lester, vice chairman; Winston Hall, secretary; Compton Parkinson, treasurer and Hollis Bristol assistant secretary treasurer. Following the elections, the group applied for the contract to execute cleaning works in the community.
According to Gonsalves, and this was repeated by several other residents, apparently a plan was hatched to disregard the existing CDC and appoint another.
"That ain't gon happen here. Not here! Shury and she cronies got to realise we are wiser now and de days fuh monopolizing people done," a resident said.
When Stabroek News went to Water Lily Road yesterday, the disrupted meeting had ended and Sahoye-Shury was driving away.
According to reports, the disgruntled group of residents converged on the meeting despite several attempts to bar them from entering. "She [Sahoye-Shury] try fuh tell me I can't come in de meeting. I am a resident here and that's my right," a resident said.
Another man said he was disturbed by what he termed the disrespectful and bully-like attitude of the National Director for CDCs. "She got de guts to refer to our elected regional chairman as lil boy and now she come here like God telling we nobody must speak after she," the resident said.
However, Sahoye-Shury told this newspaper last night, that at no time did she refer to the chairman as a little boy. "I know better," she said. "I'm in the thing long now. I'm on the trail for 60 years and I would not disrespect anyone.
She said she was in fact disrespected by persons who showed up at the forum, adding that the meeting could not be held. "Their type of behaviour was disgraceful," she said.
Region 10 APNU Members of Parliament Vanessa Kissoon and Renis Morian were both on the scene. Kissoon said she was at the meeting and efforts were made to prevent her from speaking, but she firmly protested. "For too long this woman has been doing this nonsense and it's time we put an end to it," she said.
"Every time this lady comes to Region 10 is like a declaration of hostility against the people of Region 10." said Morian. "She is disrespectful to the elected people of this community. She is disrespectful to the chairman."
According to the MP, Sahoye-Shury first went to the office of the Regional Chairman before convening the community meeting.
Residents said she accused Solomon of appointing a CDC; an allegation which was denied by Solomon, who said he had been fulfilling his mandate as a representative of the people of Region 10.
"It is very sad that, that person is trying to create animosity among persons," Solomon said. "We have always respected the desires and views of the people of the region."
Solomon noted that since taking office, accompanied by councillors, he has been visiting communities across the region. He said several communities complained about their dissatisfaction with the leaders of the various CDCs. "So we said to them, and rightfully so, that if they are not satisfied with the group, as a collective body they have a democratic right to elect leaders of their choice."
He said it was unfortunate that government affiliates have been going into communities without consulting with the local authorizes and installing CDCs which sometimes comprise non-residents; a move to which the RDC objects.
"Nobody, nobody has the right to be installing or asking persons who do not live in the community to be on the CDC. That is not right and moreso they are doing it against the wishes of the people of the community and we call on whoever is guilty of this to stop it right now because it would not be condoned," stated Solomon.
Around the Web