Kensley 'Bung-ee' Thompson, suspected of brutally murdering his wife, Rhonda Thompson, 35, on Sunday at Onderneeming, West Coast Berbice, succumbed yesterday; he had ingested a poisonous substance and slashed his wrists and throat.
Police found Thompson, 32, of Hopetown Village, in the backdam near his home around 6.45am yesterday after receiving a tip. He was arrested with the help of public-spirited citizens and taken to the Fort Wellington Hospital, from where he was transferred to the Georgetown Public Hospital; he died while receiving treatment.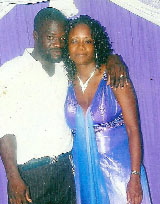 It is believed that the man slit the woman's throat at her home, where she was found on Sunday evening. The couple had been married for seven years but was separated for about three months after a misunderstanding.
Rhonda's mother, Agnes, 75, who shared her daughter's home, said the man had gone to church on Sunday to get the pastor to counsel him and Rhonda. She said though that Rhonda was not prepared to reconcile with him.
It happened that the pastor was not well and told Thompson to wait until next Sunday. But it seemed as though he could no longer wait and Agnes saw when he passed on his way home from church.
Rhonda also lived with her son, Hakeem, 15 and her niece, Natasha Goodland, 26, and Natasha's five-year-old daughter. It was Natasha who discovered the body around 7.15 pm on Sunday. She recalled that she was shocked when she saw her aunt's body in a pool of blood in the doorway.
Her body was lying face up and her neck bore what appeared to be a deep stab wound and had a long, gaping slit. A post-mortem examination conducted yesterday found that she died from "incised wounds to the neck."
Agnes told Stabroek News that her daughter, who owned the New Look Hair Salon and a grocery in front of their home, opened the shop around 7.30 am on Sunday. The elderly woman took over the shop around 8.30 am after her daughter had to leave for church. After returning from church around 2 pm Rhonda went to the shop but left to go home and cook. The woman said she went home around 5 pm to use the washroom and Rhonda had almost finished cooking.
Agnes returned to the shop and when they were ready to close the shop after 7 pm, the "door was giving problems." Eventually they managed to close it but then they also had a difficult time closing the door to the salon.
She found it strange that Rhonda "did not even come back to see what we doing and help us to close up." Natasha then left to go home to call her when she made the discovery. Natasha had left her daughter sleeping on the sofa but after the murder she found the girl in a bedroom.
She felt that the man had sneaked into the house and was hiding when he pounced on Rhonda. It also appeared as though there was a scuffle between the two in Hakeem's bedroom because it was ransacked.
Natasha believes that her aunt was trying to escape when she suffered the fatal wounds. She said the man had called Hakeem earlier to find out if he was at home before carrying out the attack.
Agnes recalled that in February there was a serious problem between the couple after Rhonda told him she was going to Barbados for two weeks. She later extended her time by one more week.
According to her, "He asked if he don't work hard too and if he can't go for a holiday too…" At the time he also threatened to kill Rhonda but she did not make a report because she "did not believe he would do it."
Meanwhile, the woman said she was relieved that her son-in-law had ended his life because she did not like the idea of the hassle of going to court.
Before yesterday, when another woman, Mohanie Gobin, was murdered by her partner (see story on page 3), Thompson had been the latest addition to the growing list of women killed or suspected to have been killed by a spouse or partner.
On January 17, the bloodied body of Rushelle Rodney was discovered in her house at Boodhoo Housing Scheme, at Blankenburg, West Coast Demerara. Her neck and both wrists were slit with kitchen knives which were found near her body.
Rodney and her husband, Shawn, according to reports had an argument earlier in that day and Rodney locked him out of the house. It is believed that at some stage she let him in and he attacked her then fled. He later called relatives and admitted to the crime before revealing that he was in Suriname. Police have since issued a wanted bulletin for him.
There were two other such cases in March. On March 17, the body of the missing Leonaka Natasha Johnson was found in a canal near her Lot 17 Nismes River View, West Bank Demerara home. Johnson's fiancé, David Johnson was arrested and charged with murder.
The same month, the semi-nude body of Bibi Shameena Khairoodin, 45, was discovered in a pool of blood on her bedroom floor in the lower flat of her Canefield, East Canje house.
She sustained wounds to her head, back and hands and her. A family member reportedly saw her husband Ramdhanie 'Prak' Persaud in the lower flat with a weapon in his hand before he fled the scene. He was on the run for several days and police later issued a wanted bulletin for him.
He turned up with a lawyer and was arrested and charged.
More recently, on May 26, Donna Thomas's bloody corpse was found at her D'Urban Street home and it was believed she was killed by an abusive partner over the money she collected hours before. Thomas, 49, a security guard from Nabaclis, East Coast Demerara, was found lying in a pool of blood with several stab wounds in her small apartment at Lot 6-9 D'Urban Street and Cross streets, Werk-en-Rust. A man has been charged with her murder.