A suspected bandit was last evening fatally shot by police in the Albouystown area.
Dead is Odell Chase of 53 James Street, Albouystown.
According to reports, around 9:30 pm, a police patrol was passing through Independence Boulevard, Albouystown when the ranks stopped to question several persons in the area.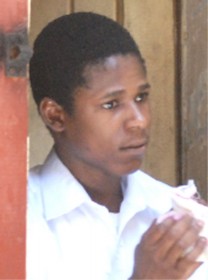 While reports are sketchy, Stabroek News understands that the police attempted to arrest Chase, said to be in his 20s, who was with several persons.
He was shot four times about the body, reportedly during a confrontation and the police later transported him to the Georgetown Public Hospital where he succumbed to his injuries several minutes later.
Two young women later showed up at the hospital. One of the women hurriedly exited on seeing the police,  while the other, who claimed she was his girlfriend, was taken away by the police for questioning.
According to a resident of Middle Road, La Penitence, she was at home last evening when she heard more than 3 gunshots. "I hearing this thing coming from in the street behind me and I tell this girl that the person gah dead," she exclaimed. She said shortly after, several police vehicles encircled the area.
When this newspaper visited Albouystown last evening, police officers had cordoned off a section of the area as their colleagues scoured several yards.
Persons there said the ranks were searching for several individuals who ran away on seeing the lawmen.
A resident told Stabroek News that there has been an increase in criminally –intent persons seeking shelter at various parts of the community.
Around the Web