Less than a year ago thirty-six-year-old Andrea Murray was dumped by the father of her two youngest children via a phone call, and with a view to making herself financially independent she decided to travel into the interior to work as a cook.
If she had known then what she knows today, it is a decision she would not have made, but it is one that she has chalked up to experience as she weeps in physical and emotional pain.
On April 29 last Murray was stabbed in her left eye with a spoon by the general manager of a mining camp she worked at in the Far Back backdam, Region 7.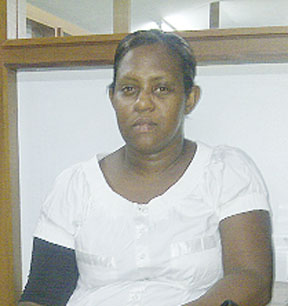 Almost two months later she is no closer to getting justice, and at the moment she is unable to work or to take care of her two children – a two and a four-year-old. She reported the matter to the Bartica Police Station but could only give her attacker's name as 'Dallo', and even though her employer witnessed the attack and aided her in leaving the backdam he has not assisted in ensuring that the man is brought to justice.
"Before I just wanted revenge but now that I am baptized [she is now a member of the Seventh Day Adventist faith] I am trying to forgive, but I want justice; still he must pay for what he did to me," Murray told the Sunday Stabroek in a recent interview as her eyes dripped water.
She spoke about the pain she experiences in her eye and how she is unable to work since she is a cook and the injured eye is unable to take the heat as it heals. A scar can be seen above the eye where she said the spoon penetrated and the wound has left the eye an awkward shape. Emergency surgery at the Georgetown Public Hospital Corporation (GPHC) less than two days after the attack saved her sight, and for that she is grateful.
As she spoke Murray was constantly interrupted by her two children, who are the youngest of four and the only two she takes care of, but she said she found joy in their steady chatter and running around, since they have been with their paternal grandmother since the attack as she was unable to properly take care of them.
A call from her reputed husband exactly one year ago changed life the way she knew it as he told her he was unable to continue with the relationship they had had for four years.
He works in the interior and it was when he called for their daughter's birthday that he informed her that he "was tired of the quarrelling and we can't go on." Faced with possible eviction since she lived with his relatives in Linden, Murray said she took the difficult decision to rent a one-bedroom apartment for $4,000.
Originally from Plaisance, she said she refused to return to her siblings since all her life she has turned to her brothers whenever hard times come around.
"I am a good cook, so I decided to go into the interior to cook and make money," she said, explaining that in the interim her children were left with their paternal grandmother.
If she had taken a cue from her first visit to the interior, Murray said she might not have been in this position today. She was afflicted three times with malaria while she was working in Port Kaituma, and she was unable to work for a month for which she would have been paid $130,000.
Laid up for a few months a determined Murray returned to the interior and worked with a miner for a some months for $130,000 before moving to the site where she was injured in April.
While the owner of this site promised to pay $180,000 a month, Murray said she travelled for more than two days to reach the location, and that was very difficult.
It was one week into her work at this last mining camp that she was injured because she stood up for her rights.
She recalled that she was cooking and the miners were waiting for their food while they were being entertained by a small music player she owned. After a while the instrument needed charging and the general manager wanted it to be charged and played simultaneously.
"I told him that the person who give me it say if you charge it and play it at the same time it will spoil, but he get vex and say he don't want hear nothing and that he charging and playing it at the same time. So I tell he not my thing and I take it," the woman said.
She said the man then began to abuse her and call her names but she ignored him and later left the area for a short period and when she returned her music player was missing. So was the manager, and the other workers claimed they did not know where it was.
Upon the manager's return she enquired about the player and he also claimed he did not know where it was. She then said that she was not going to continue cooking unless her player was returned.
At that point Murray said the manager went to the excavator in which the owner was sitting, who at no point intervened in the dispute, and returned with the player. Then he began to abuse her again. "This time I answer he back and he cuff me behind me head and I had the pot spoon in me hand and I lash he behind he head with it and then he tek a spoon and bore me in me eye," the woman said.
She said blood started to gush out of her eyes and she started to cry but no one came to her rescue even as the manager left the camp with the bloody spoon followed by the owner. She attempted to radio for assistance when two other workers told her that they would ensure she left the camp for medical treatment, and they called the owner who then with the excavator driver took her to the landing where he paid the operator of a ATV bike to take her to get a boat. She was then transported to Bartica and the owners of the boat took her to the owner's brother who paid her boat fare and gave her $40,000, which represented one week's salary for the week she had worked.
Murray said she reported the matter at the Bartica Police Station and was sent with a rank to the hospital where her wound was cleaned and dressed and she was transferred to the GPHC where the emergency surgery was done. It is only recently the stitches were removed.
"Since before I lef I ask [the owner] for the man name and he tell me he only know he as Dallo and tell me that is he suffering the loss because he gat to pay for me to come out and tell me to keep the twenty-five thousand advance he give me," Murray said.
She said when the owner had contacted her for the job he called from a blocked number and she has no contact detail for him, although he is well known in Bartica.
The woman said since she left Bartica she has been attempting to find out about her case but because she only has a mobile phone her credit always runs out before she can speak to the officer in charge of the Bartica Police Station.
Eventually she would leave Linden as employment has been promised at the business place of a relative, but her eye first needs to be healed since her employment would involve cooking.
"But I just want justice," the woman said.
It was in desperation she contacted President of the Guyana Women's Miners Organisation (GWMO) Semona Broomes through a relative in her quest for justice.
A very emotional Broomes told the Sunday Stabroek said when she encounters cases such as Murray's it shows more and more that women are severely disadvantaged in the interior which is male dominated.
"Imagine this woman left her children to go and try to make a living and a man could bore her in the eye and she can't get no justice," a fired up Broomes said.
She said the owner of the mining camp is as much to be blamed as the attacker since he stood around and did not defend his lone female worker and did not ensure that the attacker was turned over to the police.
" I think that women in the interior deserve better generally; it is a shame on our men to treat us womenfolk like this; we have been abused and kicked around without getting justice," she said.
Broomes pledged that as long as she is president of the organisation she would continue to fight all the injustices women suffer in the interior, including sexual exploitation and trafficking in persons. The GWMO will soon be dispatching a letter to acting Commissioner of Police Leroy Brummell addressing Murray's case and they hope with his intervention that her attacker would be arrested and brought to justice.
Around the Web