Police are currently investigating a robbery and carjacking that occurred around midnight yesterday in the vicinity of the University of Guyana Road, Turkeyen, East Coast Demerara (ECD), resulting in the driver of the car being badly injured.
Arshad Aziz, 23, of Canal Number Two, West Bank Demerara was badly beaten and robbed of his money, cellular phone and Toyota Allion car when he stopped to urinate along the seawall road at Turkeyen last night after he had dropped his girlfriend home. He sustained injuries to his head, back, mouth, face and shoulders. His car was found yesterday morning in Le Repentir Cemetery stripped of its mirrors, battery, bumper, one of its back wheels, tape deck, DVD player and front grill.


The young man, whose face had multiple wounds with a total of 14 stitches, recounted what transpired during the early hours of yesterday morning. He stated that he was on his way to Georgetown, after he dropped his girlfriend to her home at Success, ECD, when he stopped at the corner of the seawall road at Turkeyen to urinate.  While in the process of urinating, he said, two men pounced on him, ordering him to return to his car which was parked at the side of the road. The men, who were not masked, told him to drive to Ogle. One of the carjackers sat in the front passenger seat while the other was in the back as Aziz drove the vehicle.
The visible shaken man added "one of them who went in de back seat vice me with what I think was a gun."  They then instructed him to turn into Ogle, Airstrip Road where they stopped the vehicle at a deserted spot and took Aziz out.  Aziz added "one of them start cuffing me and de one in de front seat kick me up and then throw me in de gutter and drive way with me car.'' The men also drove away with the man's cellular phone and $15,000 he had in his possession.
However, Aziz who was in a semi unconscious state, managed to walk to the nearby Alpha Hotel located on the Ogle public road where he told the receptionist about his ordeal. The receptionist then telephoned the police at Sparendaam Police Station who responded and took the injured Aziz to the Georgetown Public Hospital for medical attention.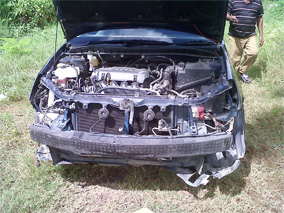 His family who were later informed about the incident then went in search of the missing vehicle.  His father, Mohamed Aziz, said they decided to carry out a search yesterday morning in Le Repentir Cemetery, since they are aware of recent cars that were hijacked and found at the location. It was during the search that they discovered the vehicle which was stripped.
According to the man's father, they found lug nuts that belonged to another vehicle and a screw driver at the scene of the car which suggests that more than one car was hijacked and stripped at the said location.  The father also lamented that auto dealers who buy the stolen articles are contributing to the problem which is affecting taxi drivers and private car owners. The man added that he is thankful that his son did not try to insist the carjackers who would have killed him if he had done so.
Last Thursday, taxi driver, Latchman Rattan, had his car hijacked after two men hired him. Rattan who was choked and placed in the trunk of his car managed to free himself and used his mobile phone to inform his family and friends of what was happening. One of the two men who attacked Rattan before stealing his vehicle was taken into custody at the Vigilance Police Station, after he and his accomplice ran off the road while being pursued at Lusignan.
Around the Web