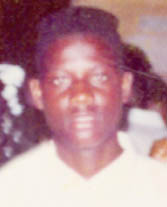 More than a month after Nidal Watkins was shot dead by police outside his Vergenoegen, East Bank Essequibo home, investigators have been unable to complete their file on the case as they are still to get a statement from one of the two police ranks injured in the confrontation with the man.
This is according to Crime Chief Seelall Persaud, who told Stabroek News last week that the statement has not been obtained from the rank, who has been "in and out of hospital" since the May 26 incident. Based on what Persaud told this newspaper, the rank's statement is integral to the investigation.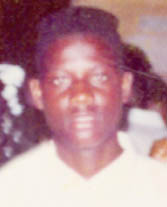 However, members of Watkin's family feel that the wheels of justice are turning slowly for them. Watkin's sister, Colette Joseph, told this newspaper that the family is yet to hear from the police on the progress of the investigation. She said that the police took a statement from the last eyewitness on June 17, when they indicated that the file would have to be sent to the Director of Public Prosecu-tions (DPP) for advice. "Until now we haven't heard from them," she added.
According to Joseph, her brother's two children, ages 17 and 14, are not handling his death well. She stated that it is particularly hard since one of the two girls saw what had happened.
As a result, relatives try to spend as much time with them as possible.
Watkins, called 'Shawn,' 42, who was a porkknocker, held the police at bay with cutlasses for some time before he was shot at least twice by two ranks.
His family has called the shooting unjustified, while noting that Watkins had been suffering from mental illness for some time.
They have suggested that the death of his mother and an issue with his common-law wife provoked him on the day of the confrontation.
Police had said that Watkins was fatally shot at Vergenoegen following a cutlass attack on two ranks stationed in Police 'D' Division. Officers from the Leonora Police Station went to arrest Watkins in response to reports of domestic violence and arson at Meten-Meer-Zorg and the making of threats at Vergenoegen.
"Armed with two cutlasses and a knife the suspect attacked Corporal 19364 Williams chopping him several times and Constable 21310 Solomon who went to aid Williams on his left hand," police said, adding that Watkins was shot in the process and died before receiving medical attention at the Leonora Hospital. The ranks were referred to the Georgetown Public Hospital in "serious condition."
Shortly after the shooting, Watkins' niece, Nikita, recounted that he was not "in the right frame of mind" and that his behaviour prompted relatives to summon the police to "settle him." She said that it was not the first time he had "acted up," and she noted that he had threatened to burn a house down. Watkins had mental issues and he was not on medication, she said.
Nikita recalled that the police came but were apparently waiting outside for others. She said when they arrived her uncle ran into the yard and locked the gate saying, "This is his yard."
She said police officer approached the gate holding a gun and Watkins, armed with a cutlass, ran towards the rank, who fired at him. She could not say if the round struck her uncle. From all indications, this infuriated Watkins, as he ran out onto the roadway. "One of the officers fell and then my uncle hit him and then he ran behind another one and then the officer shot him," she had recounted.
She said Watkins was shot in the leg, following which he raised his hands in surrender. The young woman stressed that after Watkins surrendered, the police had no need to shoot him again.
Around the Web