Two children were yesterday rescued from a house which went up in flames at Belladrum, West Coast Berbice.
The children, Noah Ricketts, seven years-old, and his brother, Isaiah Ricketts, two years-old, were alone in the upper flat of the house when the fire started around 12:20 pm yesterday.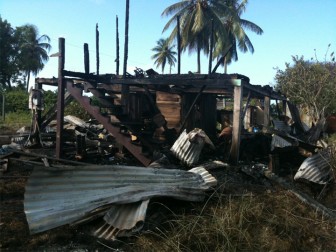 Their uncle, Winston 'Junior' Ward, 39, who was occupying the bottom flat, ran to their rescue.
Ward told Stabroek News that he was resting when neighbours alerted him about the fire. He ran out of the house and heard his nephews screaming for help. The doors and windows were secured and he had to break a window to get the children out.
They lived with their mother, Carlene Ricketts, 32 and grandmother, Esleyn Hercules, 60, at the house.
Ricketts had gone to Georgetown to accompany her mother, Hercules, to the doctor.
Meanwhile, Ward, a security officer attached to Omai Gold Mines Ltd., was only able to grab a few pieces of clothing before the house was engulfed.
Neighbours aided him by forming a bucket brigade to battle the fire and while they managed to contain the blaze, they could not put the flames out. The fire tender from the Onverwagt Fire Station arrived as the building but the water was quickly exhausted.
Around the Web