A cyclist was yesterday morning killed on the spot, victim to a hit-and-run at Good Hope, East Coast Demerara.
Baliram Harichand, 67, of Lot 532 14th Street, Foulis, East Coast Demerara, was on his way to work when he was struck down by what has been reported  as a silver-grey Toyota 212 car around 6:10 hours.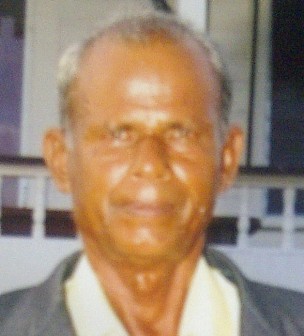 Police said that investigations have revealed that Baliram was riding along the roadway when he was allegedly struck down from behind by the car which drove away from the scene. It was noted that the father of one was pronounced dead on arrival at the Georgetown Public Hospital.
When Stabroek News visited the home of the deceased, his widow, Indranie Baliram, said that he left home around 5:30am. She explained that he was employed by a village Pandit who had gotten the contract from the Neighbourhood Democratic Council for carrying out basic duties.
"He used to go and clean drains and cut weed and so," she said.
The woman said a neighbour went to her home about an hour after her husband left and informed her that he was involved in an accident but not that it was so severe. "I say he mussee get a lil knock or so… I went and I tell my daughter to come leh we go and see but when we go, we see he lie down, he whole skull out, he brain on the road, he foot cut out and the bicycle back smash in," she said.
Mrs. Baliram said from the appearance of her husband's mangled body, it was suggested that the car had run over him.