(Trinidad Express) Cruise ship fraud-accused businesswoman Vicky Boodram went to jail last night, after being denied bail on charges of fraud and forgery related to purchases including a Mercedes Benz, house and land.
Last year, Boodram, owner of Boodram's Travel & Tours and Ship Ahoy Cruises, appeared in the Port of Spain Magistrates' Court with her estranged husband, Ravi Arjoonsingh, facing 20 charges of fraudulently receiving more than TT$5 million from customers for two cruise packages that failed to sail.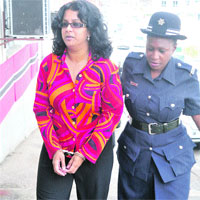 She was granted TT$6 million bail. Arjoonsingh was granted TT$3.5 million bail.
Yesterday, Boodram, who was arrested last Wednesday, was taken before Acting Deputy Chief Magistrate Rajendra Rambachan in the San Fernando Magistrates' Court.
Police prosecutor Ramdath Phillip objected to bail on the basis that Boodram had several pending matters before the court when the new charges were laid.
Boodram is accused of purchasing a TT$629,000 E-Class Mercedes Benz and TT$2m house at Palmiste using forged documents, and with uttering forged documents to a bank, including job letters, in order to obtain a credit card.
Phillip also said that a fingerprint trace was yet to be done.
Boodram, 30, of Siparia, was represented by attorney Jason Jackson, who contested the bail objection.
He said the new charges arose from one alleged business venture that began back in 2007 and out of two alleged transactions in 2010.
He said the police could have laid the five charges at her first court appearance in Port of Spain in May 2011.
Jackson said these charges formed "part and parcel" of the other allegations and did not happen while she was on bail for the other matters.
Magistrate Rambachan overruled Philip's first objection but remanded Boodram in custody to be traced.
Phillip said the system for conducting a fingerprint trace was not working, but he would ensure that the information would be available for Boodram by tomorrow.
Boodram was remanded in custody at the Women's Prison, Golden Grove, Arouca, until then.
The charges related to alleged offences in Siparia were adjourned to Thursday.
Around the Web