-paddy price, fertilizers still key issues
As rice farmers in Berbice start harvesting, they are uncertain of reaping the full benefits of their investments as changes in weather patterns have increased the cost of production and resulted in low yields.
Farmers are facing a rough time with land preparation, with accessing their fields and the heavy rainfall that has affected their yields.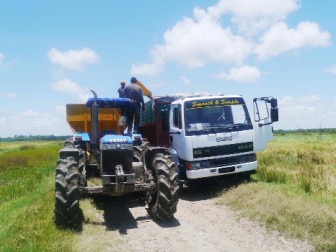 Some farmers told Stabroek News that heavy rainfall has resulted in the cost of production being increased significantly. They lamented that some of the dams are impassable and getting their crops out is a "tedious job."
Some of the farmers, who occupy land aback of Hopetown, said they have resorted to using boats to access their farms. But even in that case it is not smooth sailing.
According to them, they set off in boats loaded with fertilizers and other items. During the journey, they have to offload, pull the boats across the dam and reload them and then continue. This happens a few times, depending on the distance to the farms.
"We are not getting to prepare the land because the rain is so unpredictable. When you prepare the land in the muddy season you go through a lot more expense," Shameer Subhan, of No. 22 Bel Air Village, told this newspaper, noting that their combines cannot access their farm lands to cut.
"Farmers expected dry weather in August but this time there was a lot of rain. Luckily, the rain hold up for the past few days; we are praying for it to remain like that for at least six months; that would help a great lot," he added.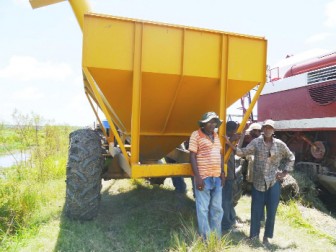 Subhan, who is planting over 500 acres of rice together with his father and brothers, said they would make use of the dry weather to plough and undertake other land preparations for the next crop. He lamented that the cost of production is a lot more because the price for paddy cannot compensate for the fuel and the fertilizer.
"Up to the last crop, farmers got $4,000 per bag. But I heard that the price has dropped to $3,800 per bag for this crop. I think it is because the paddy is not getting to dry," he said.
"The cost for triple fertilizer is $9,300 per bag [amounting to half bag per acre] and urea is $8,400 and we use two doses of that per acre. Then the workers want $1,000 per bag to fertilize the crop and $4,000 per acre for job work to sow the paddy," he further explained.
He called on government to "look into the price for the paddy due to the expenses of the farmers. I don't think they [government officials] are doing anything about it."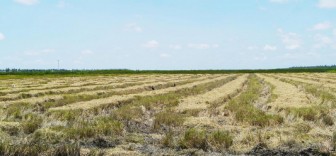 Many farmers have said that since the new minister, Dr. Leslie Ramsammy was sworn in he has never visited the MMA to speak to them.
Subhan, who has been in the rice business since he was a boy, said it has never been so bad. "…But we cannot blame anybody for the weather; we just have to pray for better weather," he said.
He cannot depend on the rice work alone anymore and he is looking at alternative means of earning an income.
'Not so bad,
not so good'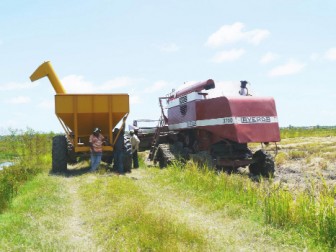 Stabroek News visited Lincoln Samaroo, of Washington, at his rice field at Foulis, where the combine had just finished harvesting a field and was discharging the paddy into a grain cart.
Shortly after, a tractor with the grain cart attached drove out of the dam and emptied the paddy into a truck that was waiting at the head of the dam. The truck would wait for about two more loads before transporting it to the mill.
Samaroo had already sent a load of paddy to Hakh Rice Mill at Cane Grove, Mahaica but was not sure what price they would be paying per bag.
He told this newspaper that the crop was "not so bad, not so good. We had a lot of rain and that caused flooding…."
Besides, he said, his crop was affected by salt-water from the sea. "As soon as the water comes up with the high tide, the salt-water would get into the rice field."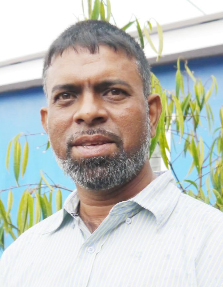 Samaroo whose father was a rice farmer said he too was into the business for a very long time. He resided overseas for a while and when he returned over one year ago he reinvested in rice farming. Since then, he would "get good crop in and out." Like other farmers, he was facing a difficulty with his crop because of the weather conditions.
Young and budding rice farmer Rajeshwar Mohan, 20 of Foulis joined his father, Hansraj Mohan in the business after he graduated from President's College about three years ago. Being an only son, he too became dedicated to the business.
"You cannot leave the workmen to do everything; you have to go to the backdam with them every day to spray, make water-tracks and do other work," he said.
"They [workers] would tell you that everything is ok but when you go and check for yourself they did not do what they were supposed to do," he added.
They have invested in many acres of rice land at No 42. Village and at Burma, Mahaicony. The crop was not yet ready for harvesting and in the meantime, they were servicing their machinery in preparation.
Mohan said they would normally take their paddy to Saj Rice Mill, at Burma, and he recalled that the previous crop was "reasonable." They had earned $4,400 per bag.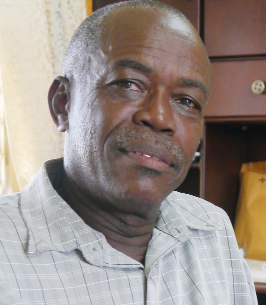 But yet they suffer losses with the amount of paddy that had to be harvested. He too said that the combine could not get to the corners of the fields because the land had not dried properly and a lot of rice had to be abandoned.
Mohan also explained that they could not plough the land due to the heavy rainfall and that they went straight into chipping. That, he noted, is not the best thing to do. "Because when you go to harvest and the field is not dried, probably it would cause the combine to fasten," he said, adding that he too was happy for the few days of dry weather and that the "crop looks like it would be better."
The young entrepreneur said he was "enjoying rice farming, especially in the dry weather. But in the rain, it is stressful as the trucks cannot access the fields.
"We have to use grain carts to bring out the paddy to the trucks on the road. That involves more time and money," he said.
"When the dams are in good condition, the trucks can go all the way to the fields and fetch 200 bags of paddy while the grain carts can only hold about 60 bags," he added.
Potholes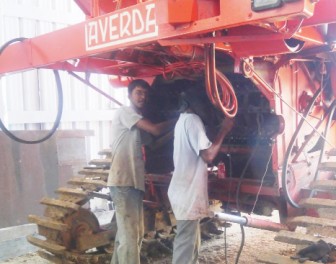 Mohan lamented that presently the dams have deep potholes and are slushy and they have to use the red road at Hope, which is also in a terrible condition. He pointed out that instead of using a pick-up to access his field to spray, he has to use a tractor/trailer and it is more time-consuming.
In terms of what would aid in the improvement of the rice industry, he said the Mahaica, Mahaicony, Abary-Agricultural Development Authority (MMA/ADA) "needs to make the dams properly."
He added, "They are filling the huge potholes with red sand and as soon as the rain falls, it washes out. I don't think MMA is cleaning the drainage and irrigation trenches enough. They always promising and then there is no excavator. They wait until it rains to do the work."
He said too that "We have decided to purchase an excavator, especially to clean the drains… there are no ifs and buts, we have to fix dams."
Mohan also said that MMA takes a long time to give irrigation water and some farmers have to wait to chip and they end up being late with the crop.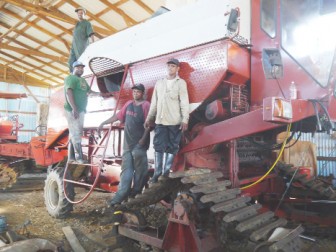 Another improvement that Mohan wants to see is ensuring that the millers "stop taking so long to pay farmers. Maybe it is because they do not get to ship the rice on time but that affects all the farmers."
Frank Bassoodeo, medium-scale rice farmer and former Rice Producers' Association (RPA) representative, said, "The harvesting period was drawn out for a long time because of the weather phenomenon."
He pointed out that "the spring crop is from March to May but it was prolonged until July because every two days of sunshine was followed by a day and a half of rainfall. This caused the dams to be in impassable conditions."
He said, "sowing was supposed to be stopped in mid-July so that harvesting can be done by mid September. But up to the first week in August, farmers were still sowing and that was bad… Last year our full harvesting peak production was in mid-September."
According to Bassoodeo, "only 80% to 85% of the 40,000 acres of rice land in West Berbice was sown due to poor weather conditions. There was also poor seed paddy germination and a lot of farmers had to sow their fields two or three times."
He explained that farmers did not get to "dry-plough and in some cases we did not get to burn the straw and it was left under the water. Sometimes we had to do underwater cultivation from starting to ending without any dry spell… And the stagnant water would cause the seedling to die."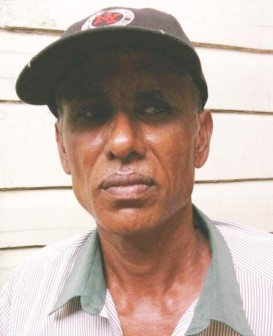 Further, he said, "One of the most disturbing factors about rice farming is the labour cost. In cases where farmers do not have boats to take their fertilizer to the fields, they have to pay the labourers $1,200 to $1,500 per bag to fetch the fertilizer."
Optimistic
Large-scale rice farmer Zaid Rafeeoodeen, of Armadale, has been in the rice business for over 30 years and he is very optimistic about the future of the industry.
He started out on his own on a small-scale with just 10 acres of land, but that has since grown to 500 acres.
"One of the pluses for the industry now is that the prices for paddy are better, especially for the high yielding varieties," he noted.
He was also happy that government has lobbied for more markets in Venezuela and Europe and said he had supplied paddy to the Venezuelan market. He is hoping to restart very soon.
According to Rafeeoodeen, since his early days in the industry, there have been vast changes and a lot of improvements.
Farming on the left bank of the Abary River, he recalled that after the paddy was reaped it was thrown on the dam, picked up and placed on another spot, loaded on a pontoon then offloaded from there to a lorry and then to the rice mill.
He was happy that "the work is not so tedious anymore and everything is being done mechanically. Combine would cut the rice straight into a grain truck and the driver alone takes it to the rice mill."
But when the weather is not so favourable for the truck to reach the field, he too would use a grain cart to transport paddy from the field up to the point where the truck can go.
Rafeeoodeen said twenty years ago, farmers would have harvested 250 bags of paddy per combine and hired about eight workers to do the job. "Now, they can easily cut a minimum of 500 bags and only three workers would be needed to work in the field and to take the paddy to the mill," he said.
"The negative part of rice farming is that we did not have to battle with climate change. Sometimes the weather is not favourable and while we cannot do anything about it we should keep track of it and ensure planting is done on time," he added.
He said the "industry is doing well but with any business there would be times for ups and downs. We need to focus more on productivity; if we can reap more paddy per acre, it would therefore mean less cost and more profit."
Irrigation
In an interview, General Manager of MMA, Aubrey Charles told Stabroek News that a lot of farmers have planted late for the current autumn crop, due to setbacks with land preparation or not getting money from millers.
He said MMA should have closed irrigation earlier but a delegation of farmers went to the office and asked for an extension. By doing that, he said, it was affecting the persons who planted early.
After meeting with the RPA, it was agreed that the irrigation period would be extended for five days.
After that, he explained that MMA "would not be irrigating for the autumn crop but it does not mean that those persons who planted late would not be able to get water. They [just] wouldn't be able to get gravity irrigation. We would lower the water in the irrigation system and if they want water they would have to pump it."
He said too that "Last week we started access preparation in the Abary, Berbice area and the Mahaicony/Abary areas. We are preparing the access dams so that farmers can access their rice crops."
According to him, "Things are a bit slow because we have some problems with the big 'Vanguard' tractor that is doing most of the work. We are trying to work with farmers and we are appealing to those who have machineries to assist with access preparation. We are willing to give farmers the fuel if we know they are committed."
He said MMA started to prepare the dams "but sometimes as soon as we start and we finish a couple of dams there comes the rain." Sometimes too, he said, the tractors with the cage-wheels would cause the dams to be damaged.
He said it seems as though "the rainy season is over and once we have that long break we would be able to see how best we can prepare the dams so that farmers can harvest their crop."
He meanwhile  lamented that the "collection of rates and taxes is still a sore issue and we are still at forty per cent." Regardless of that, the MMA still has to provide the services to farmers.
Around the Web